MLK Day March and Service Day Scheduled for Jan. 20
Posted On January 13, 2020
---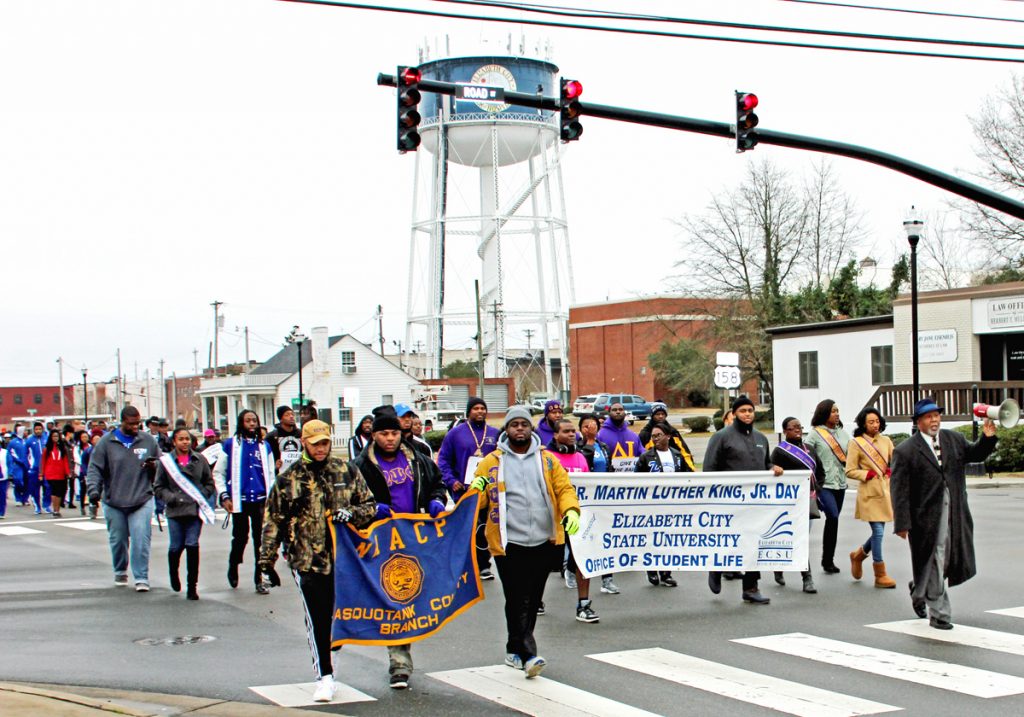 Elizabeth City State University students will be celebrating the legacy of civil rights leader, Dr. Martin Luther King Jr., on Monday, Jan. 20. The events include a scheduled march with guest speakers and volunteer opportunities celebrating the spirit and memory of the Civil Rights Movement leader.
Although not sponsored by ECSU, the annual MLK Day March will begin at the G.R. Little Library at 11 a.m., and go down Southern Avenue to Charles Creek Park, according to the university's director of community engagement, Russ Haddad. At Charles Creek Park, march participants will have the opportunity to hear the event's keynote speaker, Elizabeth City councilman and mayor pro-temp Johnny Walton.
Mr. Walton is a 1969 graduate of ECSU. He was an NFL quarterback for the Philadelphia Eagles and a longtime Elizabeth City educator.
Immediately following the event at Charles Creek Park, there will be a service commemorating the life of Dr. King. The event will be held at Olive Branch Missionary Baptist Church located at 510 Brooks Ave.
The guest speaker will be 2017 ECSU graduate Kiana Rivers. Ms. Rivers is currently studying law at North Carolina Central University.
Mr. Haddad said that in addition to the march and speakers, ECSU students will be participating in community service events throughout the day. There are three community service opportunities, he said.
The first opportunity will be at the Elizabeth City Habitat for Humanity Store from 9 a.m. to noon. Students will assist with taking donations, helping customers and cleaning.
The next opportunity will happen at Food Bank of the Albemarle from 1 p.m. to 3 p.m. There, students will help Food Bank staff sort non-perishable food items and pack them for distribution.
The third opportunity will be at the Waterbrook assisted living facility in Elizabeth City from 2:30 p.m. to 3:30 p.m. Students will work with the residents during bingo hour, said Mr. Haddad.
Students interested in signing up for any of the three service opportunities can go to www.ecsu.edu and click the "Get Involved" tab at the top of the page. That will take them directly to the sign-up link, hosted by Galaxy Digital.
While the MLK Day service opportunities are an annual event, Mr. Haddad said the goal is to establish a constant ECSU presence in the community.
"The hope is that we can make these regular opportunities so groups across campus can adopt any of these organizations or others they know of," said Mr. Haddad.
Mr. Haddad said there are currently groups across campus participating in community service work throughout the fall and spring semesters. The ECSU athletics program, for example volunteers at area public schools, he said.
"This is the next step in institutionalizing volunteer service and helping the community," he said.
---