Military Times says ECSU in Top 20 of Best Bet for Vets colleges
Posted On November 8, 2016
---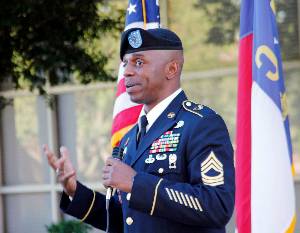 Elizabeth City State University cares for military veterans so when the Military Times set out to rank the top 20 Best Bet for Vets schools, it should come as no surprise that ECSU was ranked 17th.
According to the Military Times, universities across the country were asked to fill out "a rigorous survey" that included 150 questions. The aim of those questions was to understand the nature of the institution's operations involving current and former service members, and their families.
Military Times evaluated the responses of 175 universities, factored in information from Veterans Affairs and the Defense Department, as well as information from the College Scorecard data and the Cohort Default Rate Database. Institutions were evaluated based on university culture, academic quality, student support, academic policies, and cost and financial aid.
ECSU stepped up to actively work with military veterans, and active service members and their families last year with the opening of the Veterans Center. According to center director Tim Freeman, the mission of the center is to serve the men and women who have served the nation.
"We make sure that they have what they need when they come to ECSU," said Freeman.
The Veterans Center is located in Lester Hall, next to the G.R. Little Library. The center provides military veterans and active duty members with a variety of resources that extend beyond assistance with university matters. Freeman says that at the center, veterans are able to find resources to assist them with benefits that include medical aid, financial aid, and more.
"We have a support staff," says Freeman.
ECSU recently signed a memorandum of agreement with the U.S. Coast Guard that brings the two organizations together to better educate future Coast Guard leaders. The purpose of the memorandum is to strengthen the relationship between ECSU and the Coast Guard, offering educational opportunities to service members.
One of those opportunities is the ability to continue receiving an education from ECSU online, an important factor in the life of a service member. Active duty students stationed in Elizabeth City can continue their ECSU education online once they are transferred to a new duty station.
Freeman says the top 20 ranking ECSU has received from the Military Times reflects those services. Many of the service members enrolled at ECSU, says Freeman, are taking courses online.
"They get all the help they need to reach those goals," says Freeman of the services provided by ECSU.
ECSU has also been ranked for the third year in a row in the top 20 HBCUs in the nation by US News and World Report. ECSU has also been ranked No. 18 out of 50 of the top HBCUs in the country by CollegeChoice.net ranked No. 1 for the fourth consecutive year on Washington Monthly's list of "Best Baccalaureate Colleges."
---