Military Science Department commissions five cadets at ECSU
---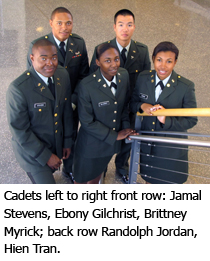 Kesha Williams
May 10, 2010
The Department of Military Science at Elizabeth City State University will commission five cadets as second lieutenant in the U. S. Army at 11 a.m. on May 7 on at the Ridley Student Center. The cadets will also repeat their oaths during the May 8 Commencement at Roebuck Stadium with ECSU's other graduates. In the event of rain, the ceremony will be held in the R. L. Vaughan Center. The following students will be commissioned:
Ebony&ampnbsp Gilchrist, a native of Newport News, Va.
Randolph&ampnbsp Jordan, a native of Amelia, Va.
Brittney Myrick, a native of Como, N.C.
Jamal&ampnbsp Stevens, a native of Jacksonville, Fla.
Hien Tran, a native of Ocean Springs, Miss.
Lt. Col. Troy Barnes, their commanding officer, said the battalion at ECSU continues to grow.
&quotWe have 23 contracted cadets, and the battalion has tripled in size. We are producing outstanding officers for the U. S. Army,&quot Barnes said. &quotTheir grade point averages and their scores at the Leadership Development Assessment Course, their physical fitness scores, community service and extracurricular activity scores determine where cadets are assigned for duty after graduation. We are confident that they are prepared to serve the country well.&quot Barnes said.
The Military Science Department welcomes Brigadier General James R. Gorham, director, Joint Staff, North Carolina Joint Force Headquarters as their speaker.
Brigadier General James R. Gorham was commissioned in 1980 through the Officer Candidate School, North Carolina Military Academy at Fort Bragg, North Carolina.&ampnbsp Prior to receiving his commission, he served as an enlisted member both on active duty and with the North Carolina Army National Guard for a total of six years.&ampnbsp His previous military assignments include commanding at the company, battalion, and brigade levels, as well as various staff positions.&ampnbsp General Gorham's most recent assignments included mobilization in support of Operation Iraqi Freedom as Commander, 130th Finance Battalion Deputy Commander, 130th Combat Support Brigade (Maneuver Enhanced), Commander, 113th Sustainment Brigade and Assistant Adjutant General-Army, North Carolina National Guard.
Brigadier General Gorham holds a Bachelor of Arts in History from Greenville, NC and a Master of Science from US Army War College, Strategic Studies.&ampnbsp Some of his major awards and decorations include the Meritorious Service Medal Army Commendation Medal (with 2 Bronze Oak Leaf Clusters) Army Achievement Medal Iraq Campaign Medal Global War on Terrorism Service Medal and the Humanitarian Service Medal.
Brigadier General Gorham assumed duties as Director, Joint Staff, North Carolina Joint Force Headquarters, Raleigh, North Carolina on 15 January 2009.&ampnbsp He also serves as Commander, North Carolina National Guard Joint Task Force and is responsible for joint training and deployment.
He is married to the former Barbara Battle and they have two children Jamie and Joshua.
---