Meet Your 2018 Mr. and Ms. Elizabeth City State University
Posted On October 19, 2018
---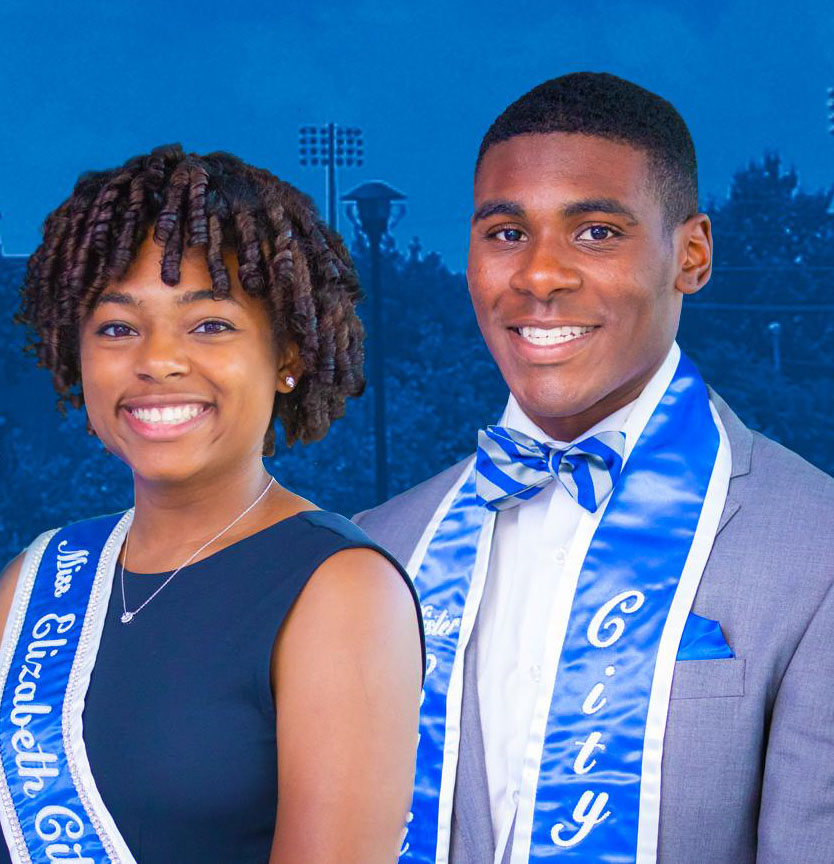 On Sunday, Oct. 21, the 2018 Viking Homecoming season kicks off with the royal coronation of the 2018 Mr. and Ms. ECSU, Mattelyn Bond and Lenox Poyner.
Bond is a communications major from Bertie County. When she's not at the WVRS campus radio station – her favorite place on campus – you might find her riding a bike, playing video games, or shopping.
Her dream job is a sports commentator for ESPN.
Poyner is an aviation science major from Silver Springs, Maryland. When he's not at Dixon Hall in the aviation science lab, Poyner likes to hang out at the Promenade on campus. He also enjoys outdoor activities such as hiking and camping, and hanging out with his 3-year-old sister, Madison.
Poyner's dream job is to be an aviation officer for the United States Army.
We asked Mr. and Ms. ECSU a few questions to help you get to them better.
ECSU Newsroom: Tell us about some of your favorite campus events.
Miss ECSU: Any type of game night because, even though I'm 21-years old, I love games and participating in friendly competition. Each year I go to the fashion shows on campus, I love watching the troops battle each other and each year they get better and better!
Mr. ECSU: Reserve Officer Training Corp (ROTC) this is my passion and I enjoy sharpening my leadership skills with this.
ECSU Newsroom: Tell us about professors who have influenced you, and why.
Ms. ECSU: Dr. Iritate and Professor Rook, Dr. Strother Jordan, Dr. Jones and Dr. Shannon; all of them have pushed me and saw potential in me even when I didn't see it in myself!
Mr. ECSU: Dr. Glenn Bowman. He was the first professor that I met on campus and he helped me get acclimated to the University. Mr. Orestes Gooden. I've known Mr. Gooden since my youth and he has really helped me in the Aviation Department.
ECSU Newsroom: Talk about how you view your experience as Mr. and Ms. ECSU. What are some of your goals? What role do you see yourself playing over the course of the school year?
Ms. ECSU: So far, being able to balance everything has been hard, but each day I get better and better at managing. When running for Ms. ECSU, I knew that one of my top goals was to promote to students that a queen is a woman that has great character, leadership, and exemplifies self, not just a "pretty" individual. I wanted to change the perception that people had when they thought of a queen; I wanted students to see that I am nothing but a student just like them, but the only difference is that they entrusted me with representing this great university.
Mr. ECSU: Some goals and roles that I plan for the school year are reaching into the community and connecting the community of Elizabeth City with Elizabeth City State University.
ECSU Newsroom: What has your experience been like at ECSU?
Ms. ECSU: So far, the experience has been amazing! I really enjoy how small it is, and close everybody is here. ECSU hosts a lot of events, and not just party events, but events that cater to all types of people.
Mr. ECSU: I have had the greatest experience at Elizabeth City State University. I have met great people and learned things about myself that I didn't even know.
ECSU Newsroom: Talk about some of your highlights at ECSU.
Ms. ECSU: Some highlights of my time here at ECSU have been becoming Sophomore Class President, joining the ECSU Volleyball Team, being part of the Radio Station (WRVS 89.9), and now, becoming the 84th Miss Elizabeth City State University.
Mr. ECSU: Greatest highlight at Elizabeth City State University, is joining the ROTC and thriving within the program. I'm a graduate of the US Army Airborne School. Another highlight is being voted in as the 19th Mr. Elizabeth City State University.
ECSU Newsroom: What would you recommend that underclassmen pursue to better enhance their experience as students?
Ms. ECSU: Start networking, and making connections with professors and other individuals on campus. Along with that, I would say that they should find jobs or shadow somebody in their field so when they do graduate and get into the real work at least they can say they have experience in their area of study.
Mr. ECSU: I would say to any underclassman to join as much as possible and get involved with SGA and Royal Court or contribute to clubs where you will create more opportunities.
ECSU Newsroom: Tell us your words to live by.
Ms. ECSU: YOLO. You Only Live Once.
Mr. ECSU: "If You Can Take it, You Can Make It." – Louis Zamperini
The Royal Coronation Reception happens Sunday, Oct. 21, 8 p.m. in the K.E. White Center. Admission is free.
---