Meet Mister and Miss ECSU: Coronation to be Live-Streamed Feb. 6
Posted On February 1, 2021
---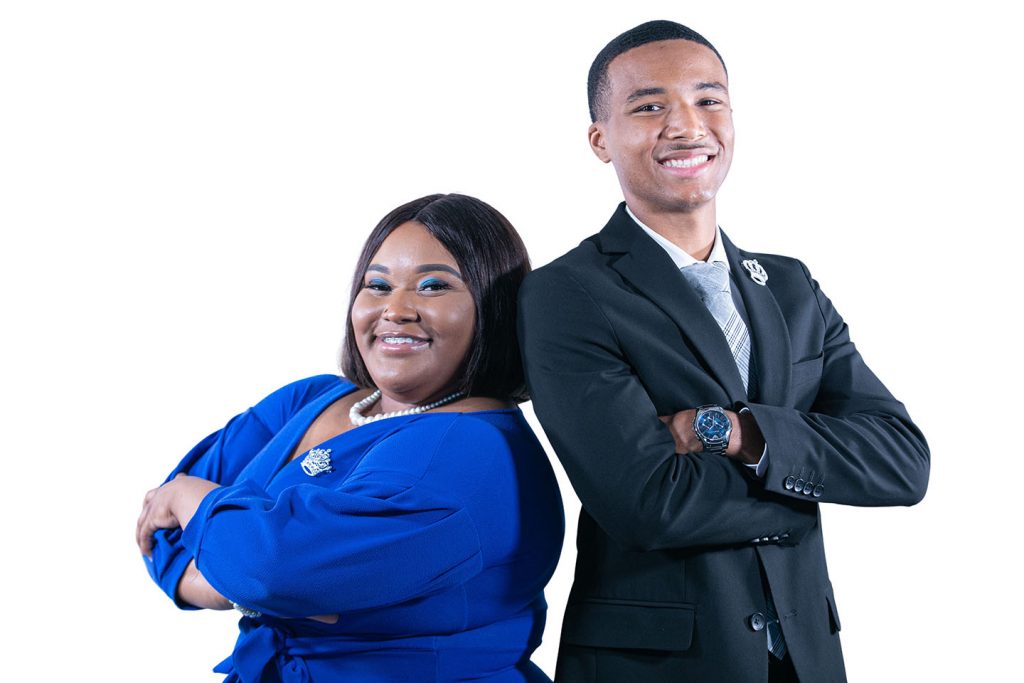 Mister and Miss ECSU, Mekayla Stokley and Nomar Proctor, will have their official coronation Saturday, Feb. 6, at 2 p.m.
Vikings are not going to let a pandemic stop them from celebrating great traditions. On Feb. 6 at 2 p.m., Elizabeth City State University will live-stream the coronation of Mister and Miss ECSU.
Live from the Mickey L. Burnim Fine Arts Center, a socially distanced celebration of Miss ECSU Mekayla Takendra Stokley and Mister ECSU Nomar Proctor will be live-streamed HERE.
Mekayla Takendra Stokley is a senior social work student from Elizabeth City. She reigns as the 86th Miss ECSU for the 2020-2021 academic year. 
Ms. Stokley has been active in the NAACP, the Social Work Club, and as a team leader for student orientation. She has served in the ECSU Royal Court as Miss Freshman, Miss Sophomore, and Miss Junior. 
 "Serving the Viking community as Miss ECSU means that I am an ambassador for ECSU and a voice for students in my class," says Ms. Stokley. "I want my impact to be that my fellow Vikings know that they can count on me in all things, whether it was a student who needed guidance with an academic question or unsure of their major." 
Ms. Stokley says that being Miss ECSU during the pandemic has instilled in her patience and the need to remain positive. She says she has overcome the stress of COVID-19 restrictions through prayer.
"One of my most favorite prayers has become the 'Serenity Prayer,'" she said. "Lord grant me the serenity to accept the things I cannot change, the courage to change the things I can, and the wisdom to know the difference."
Mr. ECSU, Nomar Mosiah Proctor, is a junior Aviation Science student with a concentration in Unmanned Aircraft Systems. He reigns as the 21st Mister ECSU.
He was accepted into the United States Coast Guard's College Student Pre-Commissioning Initiative (CSPI) scholarship program and upon graduation will enter the Officers Candidate School before attending flight school to become a pilot.
Raised in a single-family household in Prince George's County, Maryland, Mr. Proctor says he learned the importance of independence and providing for oneself throughout his upbringing. He has three younger brothers who see him as a role model, giving him a reason "to be a stellar example in life."
During his senior year of high school, Proctor decided to serve his community by becoming a volunteer firefighter in his hometown. Mr. Proctor has completed 200 volunteer service hours.
"I see community service as an opportunity to serve those in need and to build character," he said.
While serving as Mister ECSU, Mr. Proctor says he hopes to inspire others to persevere regardless of what adversities they may face.
"COVID-19 was a significant shock to everyone, but it is times like this where we need to rise to the occasion," said Mr. Proctor. "Regardless of the challenges that are present, I feel that we still have control over our destiny."
Mr. Proctor says he has overcome the restrictions of COVID-19 by creating interactive virtual events. Although he prefers having face-to-face interactions with his fellow Vikings, he says he knows that adaptation to the current situation is required to continue reaching those around him.
---