McNair Scholars awarded at summer Research Symposium
---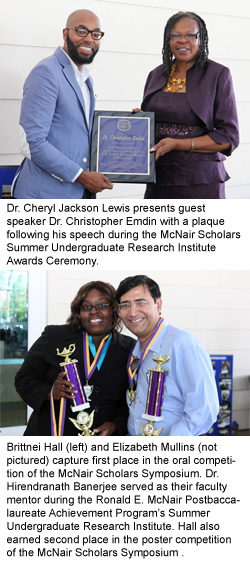 Kesha Williams
July 10, 2012 The Ronald E. McNair Postbaccalaureate Achievement Program's Summer Undergraduate Research Institute recently concluded with 19 student researchers claiming gleaming trophies in the poster and oral presentation categories. For Dr. Cheryl Jackson-Lewis, director of McNair program at Elizabeth City State University, this annual summer research institute would not be complete without students boldly standing at a podium providing an overview of their research projects, their findings and the importance of their research topics. If the challenge of a public presentation wasn't daunting enough, students also must answer questions from the audience at the conclusion of their presentation. Questions may be posed by faculty, staff, peers and family members attending the event. It's enough pressure to make palms sweat. Students find themselves carefully selecting their words while presenting their research to an audience that may have little to no knowledge about the topic. No matter. Jackson-Lewis expects informative presentations that promise to be just the start of many more presentations these students will make when they pursue graduate degrees. Research topics ranged from common family issues to those only a modern-day scientist could explain. Topic titles included, &quotBattle of the Sexes: Analyzing the Differences of Men and Women in Sports,&quot &quotFactors Associated with Grandparents Raising Grandparents,&quot &quotPost-Deployment Issues on Service Members and their Families,&quot &quotThe Effects of Chloroquine Treatment with Testing Nitric Oxide Levels over a 48-hour Period,&quot and &quotDeterminants of Personal Consumption Expenditures of U.S. Households.&quot During the institute, students produce final projects in various formats — written and poster – on their research before presenting at the awards event. Students were recognized for outstanding work in three categories of the poster competition and the oral competition. Winners and the faculty who served as advisors for these projects follow:
Poster Competition Winners – 2012
1st place – Domonick Griffin and Marque Simmons / Dr. Mohammad Hasan
2nd place – Brittnei Hall / Dr. Hirendranath Banerjee
3rd place – Imani Shaw / Dr. Brenda Norman
Honorable Mention – Cierra Swain / Dr. Brenda Norman
Oral Competition Winners – 2012
1st place – Brittnei Hall and Elizabeth Mullins / Dr. Hirendranath Banerjee
2nd place – Dawnesha Faison and Linda Billups / Dr. Kim S. Downing
3rd place – Jasmine Dunnaville and Cierra Swain / Dr. Brenda Norman
Honorable Mention – Tia Mintz / Dr. Brenda Norman
The annual symposium and competition is held as a venue to display the newly acquired and/or heightened skills of its participants. This year, Jackson Lewis added a new component to the symposium-the McNair Programs held its 17th Research Symposium and Annual Awards Ceremony off campus at the Museum of the Albemarle. Student researchers found themselves presenting in an unfamiliar auditorium — another factor Jackson-Lewis says students must anticipate for a career that likely will entail may research presentations. Dr. Kingsley Nwala, chairperson of the Accounting Department in the Walter R. Davis School of Business and Economics, was an advisor for McNair Scholars Charles Brown and Byron Coolie. Their research project, &quotDeterminants of Personal Consumption Expenditures of U.S. Households,&quot explored issues commonly discussed each week in the news media — Why the American economy is in its current declining state. How will the U.S. economic recovery drag on as consumer spending dwindles? Understanding the relationship between spending and economic growth. &quotI wanted them to know how important the U.S households' spending is with respect to the U.S. economic recovery. Household spending is very crucial for our economy to recover,&quot Nwala said. &quotThe study therefore looked at the factors that truly impact households' spending. Change in disposable income, interest rate (discount rate), inflation rate, consumer wealth, taxes, savings, unemployment rate, consumer confidence and consumer expectations of future prices and income are possible factors that can impact how households spend money in the U.S. economic system.&quot Coolie and Brown said they were pleased to have researched a topic so relevant to the public interest. Both are confident the information collected for their research project will be useful for future class assignments. Nwala serves as the students' academic advisor throughout the academic year so he was a knowledgeable faculty mentor for their five-week research project. Eight ECSU faculty served as mentors for the 13 student research projects completed. Nine ECSU faculty served as judges for the poster and oral competitions. The theme for 2012 Summer Undergraduate Research Institute was &quotMcNair Scholars Program: Paving the Way for Passion, Purpose and Prosperity.&quot This theme was selected by Jackson-Lewis to empower the McNair participants. She wanted them to identify and pursue their passion, and to assist them in recognizing that they have a purpose in life (research that benefits mankind). At the awards ceremony, Dr. Christopher Emdin, a prominent public speaker on issues such as the Obama Effect on Urban Education, the Hip-hop culture and education, improving STEM education, and various educational and socio-political issues, served as the keynote speaker. Edmin is the author of &quotUrban Science Education for the Hip-Hop Generation.&quot He is an assistant professor in the Department of Mathematics, Science and Technology at Teachers College at Columbia University.
The McNair Scholars follow:
Stephanie Adams, a senior from Winston Salem, N.C., majoring in business administration
Miranda Baker, a senior from Elizabeth City, N.C., majoring in marketing
Linda Billups, a junior from Elizabeth City, N.C., majoring in sociology
Charles Brown, a junior from Boston, Mass., majoring in accounting
Keyoshia Combs, a senior from Creswell, N.C., majoring in psychology
Byron Coollie, a senior from Charlotte, N.C., majoring in business administration
Jasmine Dunnaville, a senior from Chesapeake, Va., majoring in social work
Dawnesha Faison, a senior from Woodland, N.C., majoring in sociology
Domonick Griffin, a junior from Camden, N.C., majoring in computer science
Brittnei Hall, a senior from Elizabeth City, N.C., majoring in biology
Chanel Hollowell-Moore, a junior from Elizabeth City, N.C., majoring psychology
Narayah Lowechin, a senior from Philadelphia, Pa., majoring in communication
Tia Mintz, a junior from Gastonia, N.C., majoring in social work
Elizabeth Mullins, a junior from Shawboro, N.C., majoring in biology
Jenee' Phillips, a junior from Lewiston, N.C., majoring in computer science
Imani Shaw, a senior from Durham, N.C., majoring in social work
Marqui Simmons, a senior from Roper, N.C., majoring in computer science
Cierra Swain, a senior from Roper, N.C., majoring in social work
Andreka Wrighton, a senior from Hertford, N.C majoring in psychology
---