Marching Sound of Class struts past competitors
Posted On September 23, 2015
---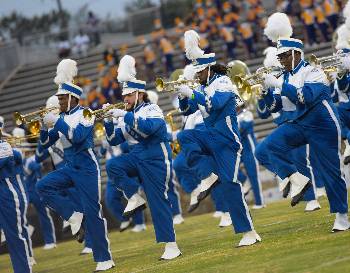 The Marching Sound of Class band isn't waiting until Homecoming to make an impression on their fans. They are already center of attention. On September 2,
HBCU Sports
, a sports information website covering HBCUs, published a list of fan-favored marching bands. ECSU's band stood atop the 11 marching bands ranked in the Central Intercollegiate Athletic Association.
This recognition follows two striking performances at August band competitions. The Marching Sound of Class traveled to Charlotte, N.C., on August 29th, to participate in the annual "McDonald's Queen City Battle of the Bands." This year marks the second consecutive year that the band participated. Organizers were proud to welcome over 10,000 attendees to the event that featured eight HBCU marching bands from various athletic conferences. Participating bands received a $5,000 honorarium from joint sponsors Webber Marketing &amp the Chapman Foundation.
Just one week prior to their Queen City performance, the ECSU P.O.I.S.O.N. drumline showed fans in Portsmouth, Va., their moves in the "Back to School Celebration. They returned with a first place award and a $1,500 prize.
Tomisha Brock, conductor of the 2015 edition of the Marching Sound of Class is looking forward to the season ahead. The band, 120 members strong, is comprised of students from North Carolina, Virginia, Maryland, New York, California, and Georgia.
"The opportunity to perform at the Queen City Battle of the Bands, and similar events, not only provides exposure for the band program, but for the university. This event provides a prime opportunity to recruit students and market the university and the band program," Brock said.
"The power of an HBCU Band program can be very beneficial to recruitment and enrollment, retention, public relations, and marketing, and the generation of revenue. The pageantry of the HBCU Band Program, attracts large, diverse crowds.
Brock explained that band performances allow students to achieve additional goals beyond those set for academic achievement. Catch the Marching Sound of Class at upcoming home football games this season and at the Homecoming 2015 parade, 9 a.m., on October 17.
---