Male Student Success Pilot Program is Bearing Fruit at ECSU
Posted On January 16, 2020
---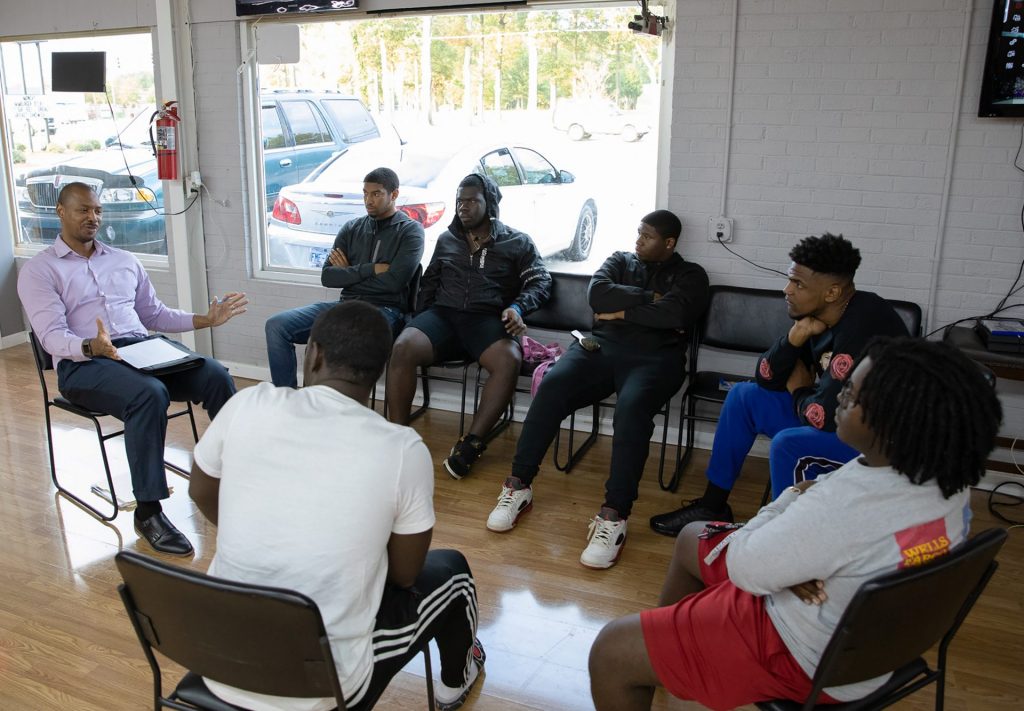 Interim dean of students, Dr. Coray Davis, left, joins ECSU freshmen during the Champion Scholars "barbershop talks." The workshop is just one of a number of activities aimed at giving male freshmen a solid foundation for life at ECSU.
Young men coming into Elizabeth City State University as freshmen have been given an opportunity to excel not only in the classroom, but also throughout the campus community. The program is Champion Scholars and according to its faculty sponsor, interim dean of students, Dr. Coray Davis, it is evolving into a successful and fruitful experience for the young men.
"They are responding," said Dr. Davis of the freshmen recruited for the program.
What they are responding to is a pilot program that launched in the fall 2019 semester aimed at helping these young men not only navigate student life, but also life in general. With student retention a major focus on the ECSU campus, this program addresses a growing need to enhance the male student experience.
"In general, male students may come in at an even playing field with female students but somewhere along the way the ball drops," said Dr. Davis for an interview last fall.
When that ball drops, those male students may fall behind in their course work, or worse, they drop out of college. With Champion Scholars, the ECSU freshmen are mentored and given opportunities to embrace campus life and excel.
Michael and Maxwell Mensah are 18-year-old twin brothers originally from Ghana, Africa. They were asked to join the program and both say it has done a lot to engage them on campus and enhance their student experience at ECSU.
"I like what is going on here," said Michael Mensah of the program.
What is going on started exclusively at University Towers. The pilot program, according to Dr. Davis, chose 25 freshmen at the residence hall to participate.
Those students meet regularly for workshops and other activities designed to assist them with their experience as students.
Dr. Davis says some of the workshops have been "barbershop talks," which gets the students to casually open up in a local barbershop setting; etiquette, or how to present yourself in the professional world; and conflict resolution, led by retired federal mediator, Dr. Hezakiah Brown.
Freshman and Perquimans County native Preston Sablon says the conflict resolution workshop is something he believes will come in handy in the future. It taught him not only how to work his way constructively through conflict, but also how to identify potential conflict through reading people's body language.
"They're useful tools," he said. "It's great to be able to read people."
The tools these students are learning are designed to give them a solid experience while earning their degrees – all three are aviation students – and to leave them with skills to use in the professional world. Dr. Davis says the skills also work to engage them academically.
"As a group they have an average GPA of 3.02," said Dr. Davis, "compared against all first time freshmen males at 2.41."
The academic component is an important one, but it is not the primary focus. Dr. Davis points out that so much of a student's life is outside of the classroom, and to offer them direction and constructive opportunities such as the workshops affords them the chance to excel academically.
In addition, bringing these young men together has given them a chance to form bonds not only with their peers, but also with faculty. Dr. Davis, for example, is not only a dean and the program director, but also an engineering professor that Champion Scholar students can turn to for guidance in a time of need.
"This program helps a lot with academics," said Maxwell Mensah.
Dr. Davis says the program will roll over into the fall 2020 semester and bring in a new group of freshmen. The current group will stay with the program and work to mentor the new group.
The idea, says Dr. Davis, is for this program to evolve each year so that each class of participants grows through their time as students and shares their experience with a new group.
Right now the program has been focused on students living in University Towers, but that will likely expand as the program expands. And the program's original intent has been to place the emphasis on male students, however, Dr. Davis says there are enough female students interested in a similar program that ECSU's Student Affairs staff is currently working out the details of that program.
The key is to engage students and enhance life on campus. The result is, says Dr. Davis, students who excel academically and in life.
---