Magic School Bus arrives at ECSU on February 3
Posted On January 30, 2012
---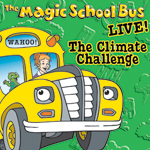 Kesha Williams
January 30, 2012
The Lyceum Series committee at Elizabeth City State University welcomes &quotThe Magic School Bus Live! The Climate Challenge,&quot a musical based on the best-selling and award-winning Scholastic book series. It will be presented at 10 a.m. and 1 p.m. on Friday, Feb. 3. in the Floyd L Robinson Auditorium of the Mickey L. Burnim Fine Arts Center.
Tickets are $10 for the general public&ampnbsp$5 for ECSU/area college students with I.D. and $5 for children ages 12 and under. Tickets may be purchased at the ECSU cashier's office in the Marion D. Thorpe Sr. Administration Building at Clown 'N' Around, 209 Charles St. in Elizabeth City or online at www.etix.com. Parking is free.&ampnbsp
Scott Elmegreen's catchy music and lyrics, and his story co-written with Doug Cooney, shine under the direction of Tracy Ward to create a show that will become an instant favorite for youngsters and adults alike. The musical takes the audience on an exciting adventure from the Arctic to the equator and examines what impacts the Earth's climate every day.
&quotThe Magic School Bus Live! The Climate Challenge&quot will provide audience members with a fun and educational theater experience as it focuses on one of the most important environmental issues facing the Earth today – climate change. As Ms. Frizzle, a schoolteacher and recurring character in the series, and her students do research for their class play on climate, they hop on the Magic School Bus to learn how recycling, alternative energy and conservation can make a difference in the world.
Jessica Payne leads the cast as the fun-loving Ms. Frizzle, with Kyle Payne, Catherine Gloria, Jacqueline Goalwin, Brian Conway and Calia Johnson as her beloved students. The show is presented by Maximum Entertainment Productions in association with the Bay Area Children's Theatre and Oregon Children's Theatre. The production at ECSU is the latest in a seven-month tour with stops in more than 60 cities. &ampnbsp
The production is based on the best-selling Scholastic book series, The Magic School Bus, written by Joanna Cole and illustrated by Bruce Degen. The books also have been turned into an Emmy Award-winning animated television series that is televised in more than 39 countries and 16 languages. It currently airs on the Qubo Channel in the United States. With more than 58 million books in print, the series has won numerous industry excellence awards, including two Emmy Awards, five CINE Golden Eagles, a Parents' Choice Gold Medal, a National Conservation Achievement Award, an Environmental Media Association Award and an Annenberg Public Policy Center Award.&ampnbsp
For more information on the performances at ECSU, call 335-3279 or 335-3276.
---