MacPhee advises students to expand the range of their job search
Posted On February 28, 2012
---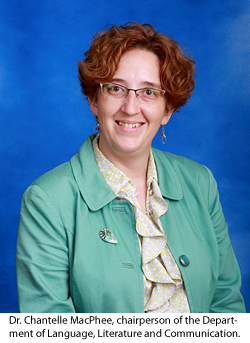 Kesha Williams
February 28, 2012
TV and film producers have long relied upon the works of William Shakespeare for their star-studded productions. Yet, these versions are not adequate for Dr. Chantelle MacPhee, chairperson of the Department of Language, Literature and Communication at Elizabeth City State University.
&ampnbspMacPhee is persuaded that students benefit greatly by seeing Shakespeare's plays performed live. She intends for ECSU students to see his plays performed in the United States and in his hometown in England.
&quotI want them to experience the stage, with no concept of what Hollywood did. The plan is to take students to see 'The Winter's Tale' later this spring,&quot MacPhee said. &quotIt is a dark play, but the theme is a combination of tragedy and comedy. It was written late in Shakespeare's career, an era when significant changes had occurred in his life and that of theater.&quot
MacPhee plans to reward students enrolled in her Shakespeare class with a trip to the Blackfriars Playhouse. Located in Staunton Virginia, the 300-seat hall is a re-creation of Shakespeare's original indoor theater.
&quotI think the students will enjoy drama for what it really is,&quot MacPhee said. &quotOnce there, students can hear the cast project their voices and see how an actor does the real work with his facial expressions, hear the pitch of his voice change to indicate a change in the storyline. They will see how amazing it is for a cast to recite the many lines of the play.&quot
Students enrolled in the upper-level literature course are taking the class online. For credit in the course, they will study two comedies by Shakespeare, one tragedy, one romance and a history.
The trip to Staunton will mark the first time MacPhee has seen that theatrical company perform. However, she has attended 12 live performances of Shakespeare's works in Stratford-upon-Avon, the playwright's birthplace. She saw several plays while earning her doctorate at the University of Glasgow.&ampnbsp Her research interests are William Shakespeare, William Blake and 18th century visual and verbal representations of Shakespeare.
MacPhee earned a master's degree from the University of Western Ontario and a bachelor's degree from the University of Prince Edward Island, both in Canada. A Canadian native, MacPhee recently became a U.S. citizen and has lived in Great Britain and Puerto Rico.
For the past three years, she has served as chair of the ECSU Department of Language, Literature and Communication. She works with 30 faculty and a staff member to oversee 184 students majoring in English or communication studies. Concentrations within the department are in creative writing, mass communication and news media.
Students majoring in English often are preparing for careers in education, but are facing a difficult challenge finding work options right now. MacPhee's alma mater in Glasgow is interested in welcoming students to graduate programs there.
Students who desire careers in the news media will face a daunting challenge. State and national projections for employment of communication majors are bleak at best. Of the 13 major industry groups categorized by North Carolina's Employment Security Commission (ESC), the &quotinformation&quot category barely indicates a change in the number of job openings between 2006 and 2016. The once glitzy news industry has been eclipsed by media company mergers, alarming downsizing at daily newspapers, shrinking profit margins and an abundance of communication graduates from universities.
The decrease of entry level, journalism/broadcast news jobs did not occur over night. While many TV newsroom producers consistently begin the evening newscast with hard news stories, the selection of entertainment stories sprinkled across hour-long newscasts has been increasing for decades. An entry level reporter isn't needed to write entertainment news. Those stories are provided to TV stations easily via news feed from other news sources. Â In radio, the number of syndicated and automated programs increased during the last two decades, causing a number of job openings for on-air talent, particularly recent graduates, to disappear. Few radio stations broadcast local news. Only the Internet publishing segment of the &quotinformation&quot category showed modest signs of job growth, according to the ECS. Those positions-unpredictable as they are- that recent graduates are more likely to find are freelance assignments, blogs and other social media functions.
&quotStudents will need internships that provide hands-on experience because media employers are most concerned with the combination of skills and education. That differs from employers in other industries whose primary concern is the academic preparation for a job,&quot MacPhee said. &quotWe've invested in some new cameras and placed emphasis on media writing skills to help prepare them. Ultimately, the candidates hired are those who can wow an employer in a business where deadlines are the norm.&quot
MacPhee understands the pressure associated with limited job options. She recalled the days in Glasgow when her peers in the doctoral program learned of the limited number of jobs available after graduation. At that time, some Scotland natives could not leave the country to find work because of family obligations. She expanded her scope to find work options elsewhere. Today, she advises ECSU students, &quotIf that dream job isn't located in your hometown or state, broaden your horizons.&quot
This article is part of a series of features spotlighting the chairpersons of ECSU's academic departments.
---