Legislative Black Caucus Impressed During ECSU Visit
---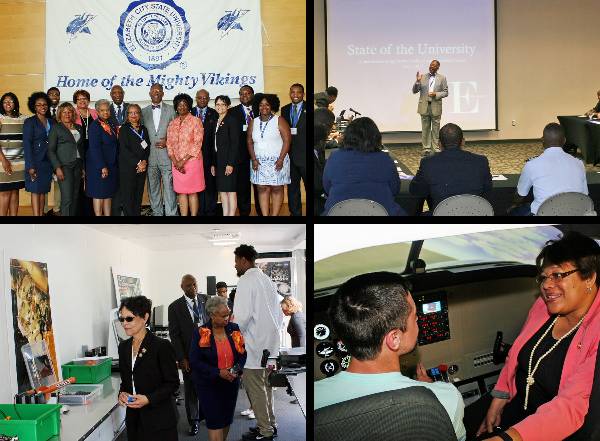 When 15 members of the North Carolina Legislative Black Caucus came to the campus of Elizabeth City State University on Monday May 1 they knew that the future of the institution's students was their number one priority. And at the end of the day the elected officials were convinced that the students and ECSU are on a path to success.
The state senators came from across North Carolina to speak with Chancellor Thomas Conway about the state of the university tour the campus including an inside look at the aviation laboratories and to speak with students. It was the conversation with a handful of students during a luncheon held at the Ridley Student Center that helped members of the state senate hone in on the heart and soul of ECSU.
"We educate the hand heart and mind" Student Government Association President Ajanae Willis said during the meeting with senate members.
Dwayne Ponton SGA vice president told the senators that he had intended to enroll at N.C. State but after attending a summer program at ECSU he knew he had found a home. Ponton said his love of ECSU the family-like environment and the education the criminal justice major has received prompted him to take his message to his hometown high school on a number of occasions. Ponton goes home he said to recruit students to ECSU.
Other students expressed similar sentiment to the senators prompting Sen. Gladys Robinson D-Guilford to observe during a press conference that it's clear from listening to the students that ECSU does make a difference in their lives. And for Sen. Angela Bryant D-Nash the chairwoman of the Legislative Black Caucus support of ECSU is "personal." She has close family ties to the university and says being on site seeing the progress at ECSU makes a difference when discussing funding.
"It makes a difference in that appropriations committee when I can raise my hand and say I was there" Bryant said.
Chancellor Conway addressed the members of the senate offering them a look at the state of the university. He discussed programs budgets and changes in enrollment taking place at ECSU. Bryant observed that under Chancellor Conway's leadership change in the right direction is taking place at ECSU.
"We have confidence in Dr. Conway" said Bryant. "And we've seen the success. We see what the students are saying."
Later in the day the members of the Legislative Black Caucus toured the ECSU campus including the aviation laboratories. Hosted by senior engineering student Darius Witherspoon the 15 senators were able to get a glimpse at the program's offerings including what Witherspoon described as its "crown jewel" the NASA Mobile STEM Lab.
At the end of the day the visit served to bolster ECSU's image with the senate members affording them the opportunity to witness to the growth of the small northeast North Carolina campus firsthand. Bryant said in the press conference it is one of their top priorities to sustain the state's HBCUs "and ECSU to see that it prospers."
---