Lady Vikings' Brown, Luster and Deal Selected for All-CIAA Honors
Posted On February 26, 2019
---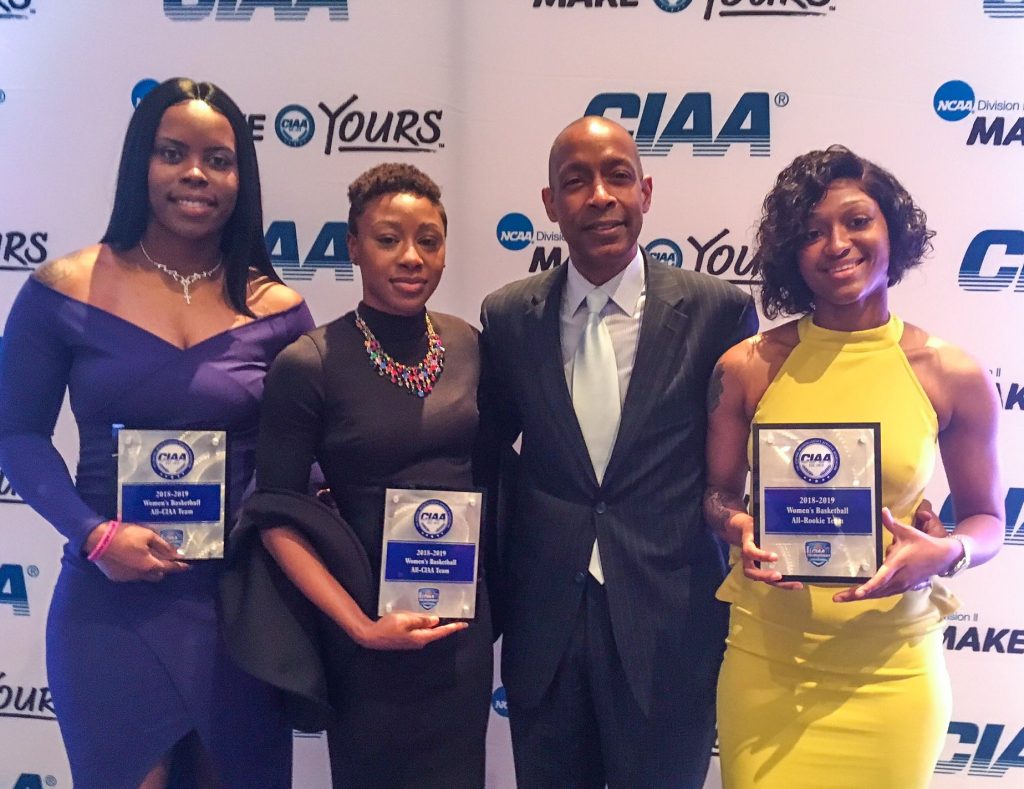 Jalyn Brown, Naterria Luster, and Asia Deal are pictured with Lady Vikings head basketball coach Antonio Davis, receiving their All-CIAA honors.

Elizabeth City State University women's basketball players Jalyn Brown, Naterria Luster, and Asia Deal were named to the 2019 All-CIAA team announced Monday.
Brown earned first-team backcourt honors; Luster earned first-team frontcourt accolades; while Deal was named to the All-Rookie team in voting conducted by the league's head coaches and sports information contacts.
Brown, a Willamston, North Carolina native, and one of the most decorated players in ECSU history, finished her senior season averaging 14.5 points per game (ninth in CIAA) in 28 contests. In 979 minutes on the court, Brown recorded 406 points (141 field goals, 52 three-pointers, and 72 free throws) throughout the season. She was third on the team in assists with 65, and second on the team in both steals (45) and blocked shots (12).
Luster, a Richmond, Virginia native, finished her junior season third in the league in scoring with 16.8 points per game (first on the team), and sixth in the league in rebounding (8.9 per contest). In 814 minutes played, Luster recorded 12 double-doubles on the season; while scoring a career high 36 points twice. She also registered a career-high 19 rebounds against Puerto Rico Bayamon.
Deal, a Norfolk, Virginia native, closed out her freshman season recording 12.8 points per game (16th in CIAA and third on the team). She finished 10th in the league and second on the team in assists averaging 2.9 per game (80); while finishing first on the team in steals with 49.
---