Know Your Rights: ECSU Voter Initiative Getting Students to the Polls
Posted On October 21, 2020
---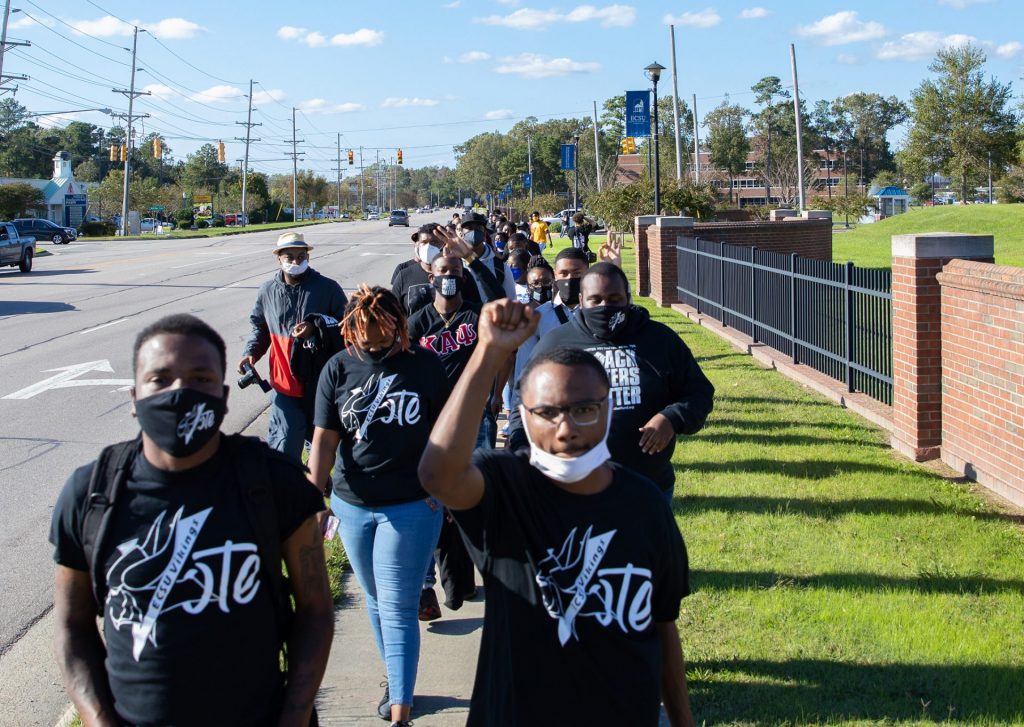 ECSU students marched to the polls on the first day of early voting, Oct. 15, as part of ongoing voter initiative events being held on campus now through Nov. 4.
There were an estimated 200 Elizabeth City State University students, faculty and staff marching to the polls, exercising their right to vote, when Pasquotank County early voting opened up on Monday, Oct. 15 at the K.E. White Center. It was an opportunity for students to have their voices heard through voting and to participate in an ongoing effort to encourage the Viking community to cast a ballot.
The march to the polls on the opening day of early voting was just one of a number of activities aimed at educating students about their right to vote, to register voters, and to encourage participation in the vote. Chanta Poyner, Interim Assistant Director for Student Programming, said that for the past few weeks, ECSU has been engaged in this voter initiative and events such as the march are being met with enthusiasm.
"Students are coming out for these events and they are happy with the level of participation," said Ms. Poyner.
Thanks to a series of grants totaling $47,650, students are able to participate in programs sponsored by various groups such as NC Compact, Get Out the Vote – HBCU Coalition of Pitt County, Democracy NC and Black Voters Matter. Ms. Poyner said she was able to secure a grant from Black Voters Matter for $15,000, $10,000 more than she had anticipated. 
In addition to programming and marketing, funds were also used to provide 12 student ambassador positions and five internships.
"We are grateful for our external partners who contributed financially to ensure that our students were equipped with the information of knowing and understanding their right to vote on the local, state, and national levels," said Kevin Wade, ECSU's Associate Vice Chancellor for Student Affairs.
Mr. Wade said that over the past two months, the Office of Student Engagement and Leadership has worked with campus organizations and external partners to coordinate more than 25 programs focusing on voter education, registration, and mobilization. He said that while university staff is providing guidance, many of the efforts have been led by students.
"By making early morning and late-night phone calls, visiting resident halls, tabling and programming, students reached out to their peers to encourage them to register to vote and pledge to vote on Election Day," said Mr. Wade.
Ms. Poyner says that in addition to more programs for students, one last march to the polls is being organized for Election Day, Nov. 3.
"We're asking anyone that hasn't voted to march and those who have voted to participate," she said.
On Wednesday, Oct. 21, ECSU will host a virtual town hall discussion with North Carolina Supreme Court Chief Justice Cheri Beasley from 5-6 p.m. The town hall discussion can be accessed on the ECSU Facebook page or the university's YouTube page, HERE.
And in preparation for post-Election Day, Mr. Wade says that the ongoing campus program, Critical Conversations, hosted by the P.A.C.E. Center, will host two virtual talks. Part 1 will be held virtually on Oct. 28, 5-6 p.m., titled, "A Holistic Approach to Making Sure 'You Good?!'" Part 2 is titled "Let's Talk About it! Processing the Election Outcome," and will be held virtually on Nov. 4.
Mr. Wade said that campus partners include the Office of the Chancellor, the Student Government Association, the Campus Activities Board, the Career Development Center, the Office of the Dean of Students, Sister 2 Sister, CHAMPION Scholars, and University Studies. He said ECSU's Assistant Dean of Students, Tiffany Hinton, and the Interim Director of Career Development, Yolanda Carcana, have been instrumental throughout the university's voter initiative.
---