Knight Serves as Chief Academic Marshal
---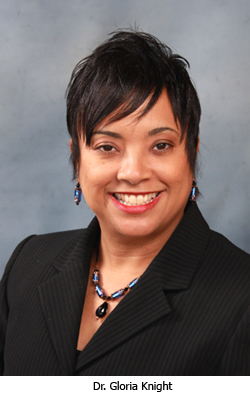 Kesha Williams
July 12, 2010
Chancellor Willie J. Gilchrist is pleased to announce the appointment of Dr. Gloria Knight as Chief Academic Marshal for Elizabeth City State University.&ampnbspThe Chief Academic Marshal is the symbolic leader of all formal academic convocations. The major annual activities are the undergraduate and graduate-level Commencement Convocations. Other academic convocations which may occur in the life of the university are also led by the Chief Academic Marshal. Dr. Knight will take the lead in ECSU's Fall and Spring Commencement activities, Founders Day and Freshman Convocation and Candlelight Ceremony.
Dr. Gloria Knight joined the ECSU faculty in 1994 and began serving as chair of the Music Department in 2001.&ampnbspShe has taught music methods, applied voice, class piano, music literature, fundamentals of music and has supervised student teachers. Along with numerous departmental responsibilities as Department Chairperson, she has served on a number of committees including Employee Benefits and Wellness, Honors Council, SACS Library Subcommittee, NCATE/State Department of Public Instruction, Academic Affairs Administration and Planning Council and the University Curriculum Committee.
Dr. Knight frequently performs as a soprano soloist in the &quotMessiah&quot with the Evelyn A. Johnson Community Singers in Elizabeth City. This outreach performance ensemble consists of university faculty, university students and community singers. She has received numerous honors from Elizabeth City State University, Pennsylvania State University and Virginia State University.&ampnbsp
She earned a B.M. in Music Education from the University of North Carolina at Greensboro a M.Ed. in Music Education by Virginia State University and an Ed.D. in Music Education from Pennsylvania State University.
---