Kids probe new worlds with Moses McDaniel at Port Discover
Posted On November 7, 2011
---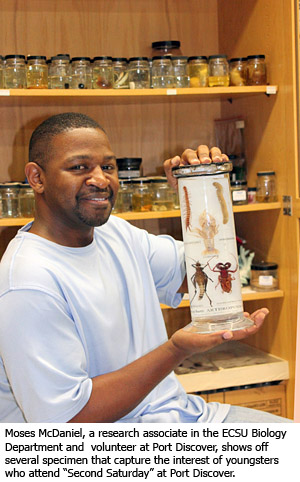 Kesha Williams
November 07, 2011
Visit Port Discover in Downtown Elizabeth City on the second Saturday of the month and you will find kids peering, probing and searching for answers to questions that trouble young minds.
&quotSecond Saturday Science, a program that takes place on the second Saturday of each month, allows kids to explore an assortment of topics related to oceanography, biology, pharmacy and more. One volunteer looks forward to setting up the gear for the town's most inquisitive minds.
Moses McDaniel, a research associate in the Biology Department at Elizabeth City State University, volunteers at Port Discover. At ECSU, he supervises and directs student thesis research projects and prepares solutions&ampnbspand materials for advanced laboratory classes. McDaniel also maintains cell cultures such as insect, mammalian, amphibian and plant calla. In 2005, he began volunteering at Port Discover, sharing his knowledge and skills. As a volunteer, he sets up experiments for assorted science lessons that are chosen carefully for young minds. McDaniel said the elementary school-age students are eager to learn
&quotKids are naturally curious and one of my goals is to help them maintain and enhance this curiosity throughout their academic matriculation,&quot McDaniel said. &quotMost of the activities there and the exhibits are free. The center offers hands-on experiences in an environment that is fun. These experiences stimulate children to explore and investigate in ways they might not otherwise have a chance to do.&quot
While most lessons he assists with are completed at Port Discover, McDaniel can recall one occasion when the students visited a lab on the ECSU campus. McDaniel helped the students complete a project that demonstrates how blood is made in the body. He used food coloring, water, marshmallows and cheerios to show how blood cells are formed. The cheerios represented red blood cells, the marshmallows represented white blood cells and the red food coloring represented the color of blood. The young scientists added the components in steps.&ampnbsp McDaniel led a discussion that explained the reasons the parts of this process were important.&ampnbsp
McDaniel also has worked with area youngsters at Port Discover during the time of year he refers to as Science Fair season. Beginning in October and culminating with each school's Science Fair in late winter, local elementary and middle school students engage in their own scientific experiments, applying the scientific method and creating their own science fair project.&ampnbsp Winners at each school move on to compete at the Regional Science Fair with students from 15 Eastern North Carolina counties.&ampnbsp For the past four years, students from the Elizabeth City-Pasquotank Public Schools have won at the regional level and qualified to compete at the North Carolina State Science Fair in Raleigh.&ampnbsp &ampnbsp
To assist students, Port Discover offers Science Fair 101 both in the schools and at Port Discover.&ampnbsp Through this program, students receive guidance from experts, such as McDaniel, who help them better understand and present their own individual research.&ampnbsp &ampnbspPast&ampnbsptopics included &quotHow Gravity Affects the Bounce of a Ball&quot and &quotDo Herbal Teas Affect the Survival Rate of Fruit Flies?&quot
LuAnne Pendergraft, director of Port Discover and an ECSU visiting lecturer, values the real-world science that McDaniel and ECSU staff and faculty bring to Port Discover. &ampnbsp
&quotIt is so valuable for the young visitors to Port Discover to interact with working scientists,&quot Pendergraft said. &ampnbsp&quotThese local scientists provide a real-life connection between what the children learn in their school science class and how they can pursue the sciences as their future careers.&quot
McDaniel, who grew up on a farm, says he recalls countless moments from his childhood that opened his eyes to the wonders of life. Whether they were insects that zipped by or bugs that roamed the ground, McDaniel saw them as an opportunity to explore. He encourages parents to keep alert for a moment to open the eyes of a child to a science project.&ampnbsp For the parent who isn't fond of those buzzing, crawling outdoor creatures, mark your calendar. There's a special class held on the second Saturday of the month that might just help.
Second Saturday Science is free.&ampnbsp&ampnbspPort Discover is located at 611 E. Main St. in Elizabeth City, N.C. &ampnbspThe science center's hours are Tuesday through Friday from 1 to 5 p.m.,&ampnbspand Saturday from 10 a.m. to 4 pm. &ampnbspPrograms can be arranged at other times for special groups.&ampnbsp To register for this program, call (252) 338-6117 or e-mail portdiscover@portdiscover.org. &ampnbspFind out more about Port Discover at www.portdiscover.org.&ampnbsp &ampnbspPort Discover is a community-based, nonprofit organization, established to enhance the public's understanding and enjoyment of science through engaging programs, activities and exhibits. &ampnbspElizabeth City State University, along with the Elizabeth City Area Chamber of Commerce, initiated the project that has attracted broad community support, including Elizabeth City Morning Rotary, College of the Albemarle, Albemarle Hospital, Museum of the Albemarle, Elizabeth City Area Convention and Visitors Bureau, and Elizabeth City-Pasquotank Public Schools. &ampnbspPort Discover is also a member of the NC Grassroots Science Museum Collaborative.
---