Kenya Safari Acrobats continue an exciting diverse Lyceum Series season; New York Gilbert & Sullivan Players to perform in March
Posted On January 31, 2011
---
Kesha Williams
January 31 2011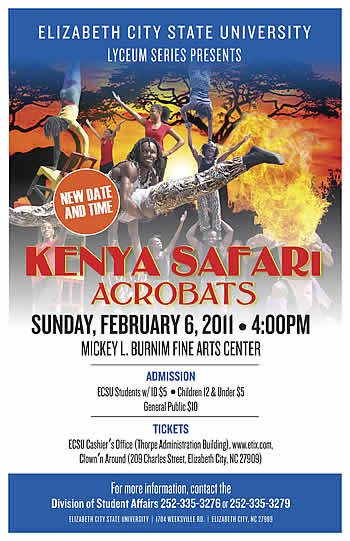 On February 6 the Lyceum Series Committee will welcome the Kenya Safari Acrobats to the auditorium of the Mickey L. Burnim Fine Arts Center.&ampnbsp Only two performances remain in a season during which organizers tried diligently to entertain patrons of all ages.
At 4 p.m. Sunday The Kenya Safari Acrobats will perform a non-stop ride of gravity-defying human pyramids balancing and tumbling acts limbo dancing breathtaking contortions all while clapping to a joyful Benga beat. The performers natives of Kenya Africa take acrobatics to exhilarating extremes.&ampnbsp They combine artistry with humor and playfulness to create an eye-popping blend of traditional arts and circus skills in classic African style. Barbaina Houston Black chairperson of the committee said the season has brought the kind of variety to the stage that fans long for.
&quotWe tried to portray a unique blend of artists. Of particular interest this year were artists that would captivate the interests of children. We've kept the ticket prices low so families could attend. We are confident this show will end before Sunday's big game (Super Bowl XLV) and give kids a special treat for the weekend&quot Houston said.
This family-friendly performance is provided for the low cost of $5 for students (school ID must be presented at the time of purchase to receive price discount) and $10 for the general public and ECSU employees.
For the final Lyceum Series presentation of the season come out for the New York Gilbert &ampamp Sullivan Players a performance of great voices presenting satirical sentimental and rousing entertainment. Costume elements props and choreography provide the visual pop that turn each event into a celebration with the camaraderie and spontaneous banter of the Wand'ring Minstrels adding an extra measure of froth to the proceedings. The show is scheduled for March 10 2011 at 6 p.m.
---