Keep art in your summer vacation plans
---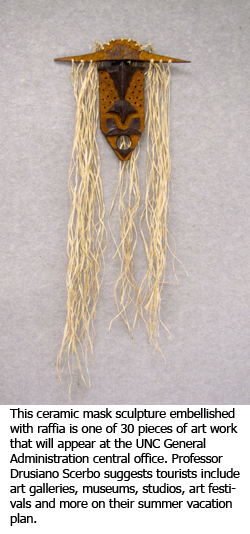 Kesha Williams
June 01, 2010
Professor Drusiano Scerbo says summer vacation plans would be incomplete without visits to museums, galleries, festivals and art display cases. Scerbo, a professor in the ECSU Art Department, said summer is a great time to see your favorite works of art or to broaden your horizons.
&quotWhether you like paintings sculptures or any of the other art forms, take the time to appreciate the arts in their community,&quot Scerbo said. &quotToday it's easy to skim the phone directory or go online and find museums, galleries or studios where you will see beautiful art. In some cases, you can watch the artists at work.&quot
Tourists should anticipate a small fee to enter large museums. The fees are needed to maintain the building, pay staff, electricians, pay for supplies needed to display the art.&ampnbspMany galleries require no entry fee and include assorted work by local artists. Museum fees are a small price to pay when compared to the cost of amusement parks. Art, he said, stimulates the mind.
Scerbo will each Art Appreciation during summer school at ECSU. In addition to their classroom assignments, he will encourage the students to comb the region for art exhibits. For the next 6 months, 30 pieces of art created by ECSU students will be displayed at the central office of the UNC General Administration. It's one of many places where artists are displaying their work.&ampnbsp Restaurants, coffee shops, assorted businesses and law offices display the vast selection of North Carolina's artists.
&quotIt is the search for the beauty in life.&ampnbsp You must find a connection between what is said visually and what is revealed by the content of sculpture,&ampnbsp the painting or other works of art,&quot Scerbo said. &quotPeople should have an open mind when they visit art exhibits. You are likely to find more that&ampnbsp you like than you thought when you entered the gallery.&quot &ampnbsp
To make the summer vacation plans interesting, Scerbo suggests seeing&ampnbsp paintings, sculptures, mixed media,&ampnbsp landscapes gardens and more. For a day trip, consider scheduling two galleries during the hottest hours of the day and enjoying outdoor recreation during the cool hours of the day.
---