Jones Gives Presentation on HBCU Diversity and Inclusion
---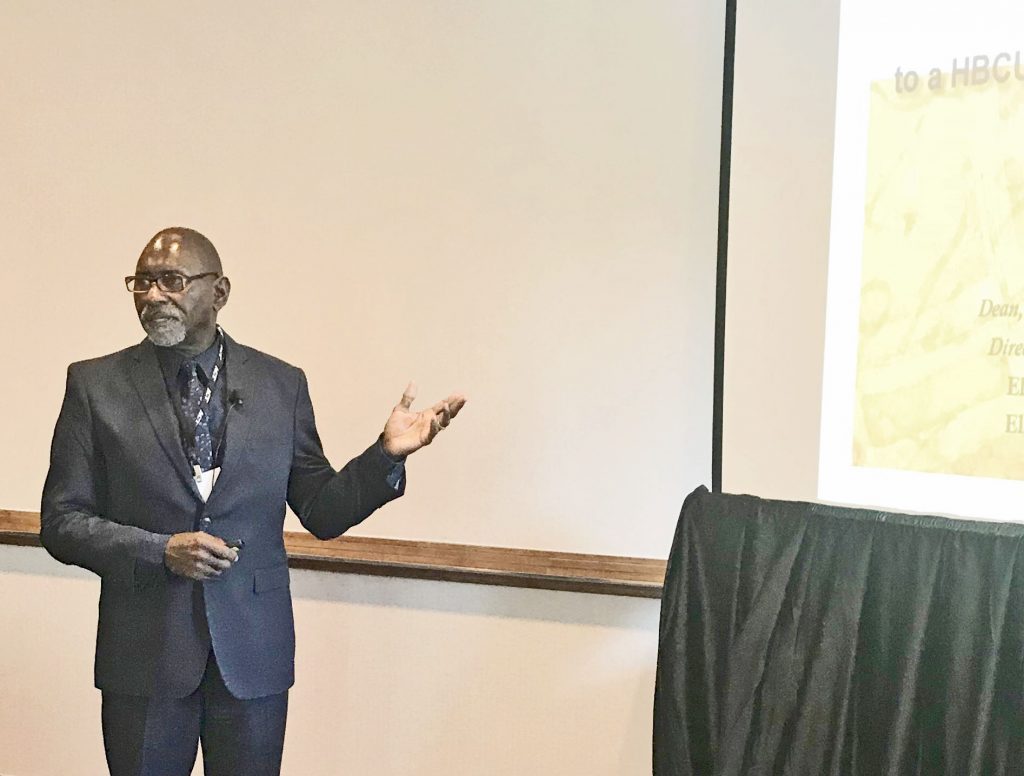 Diversity and inclusion is one of the core values at Elizabeth City State University, so when Dr. Kenneth E. Jones presented his talk on the timely subject in Denver, Colorado on July 18, he was sharing not only significant information and data, but also the spirit of the institution.
Jones, the director of the University Honors Program and dean of the liberal and fine arts programs, presented at the ACT Enrollment Management Summit, highlighting how historically black colleges and universities (HBCUs) can use their honors programs as recruiting tools to increase overall enrollment of white, Asian, Latino and other diverse groups.
"We celebrate diversity at ECSU, not only in the Honors Program, but also at the university  at large," said Jones.
In his talk, "Recruiting and Retaining White Students at a HBCU Honors Program," Jones used data generated from a case study he conducted on the ECSU Honors Program, which in recent years has become more diverse. He noted in the presentation that during the 2017-2018 academic year, "the ECSU Honors Program was 69 percent black, 26 percent white, and 5 percent other races and ethnicities."
Jones said that those demographics are consistent with racial characteristics of all students enrolled at ECSU last year, and represent a trend in enrollment at the institution over recent years.
In his talk, Jones said that there are several factors that scholarly research suggests can impact the experiences of white students recruited to HBCUs, including their honors programs. Some factors, he explained, can be psycho-social, such as self-awareness/consciousness of race or level of racial identity development. Other factors may relate to goal-seeking behavior, geographic location, access to specific programs, and a level of acceleration toward completion.
A most prominent factor that relates to retaining white students at HBCUs, and their honors programs, is the quality of student engagement, he said. Engagement by faculty, both inside and outside of the classroom, is very significant in conveying a quality academic experience, Jones explained.
"Students, regardless of race, must be able to feel confident that their instructors are interested and committed to their academic well-being," Jones said in his presentation.
But, Jones added, engagement must go beyond faculty to include the entire university community. Staff and administrators, he said, must examine the extent to which the university recognizes increasing multiculturism within its ranks and respond positively to it.
"HBCUs can maintain their identities as historically black, yet embrace diversity and inclusion," he said.
He offered the ECSU Honors Program as a model for how this can be done at an HBCU.
---