Join ECSU at its 11th Annual Back 2 School Bash and Food Drive for K-12 Students
Posted On August 23, 2022
---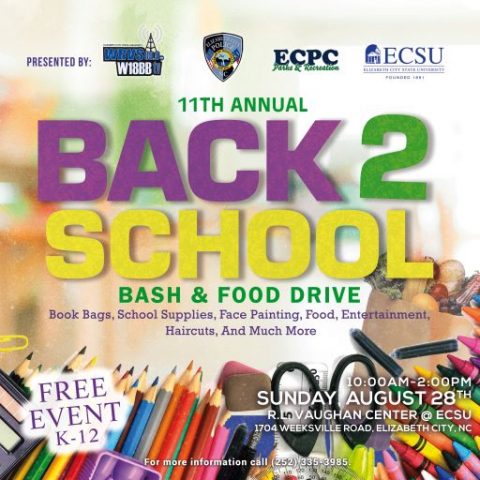 Stop by the R.L. Vaughan Center on the Elizabeth City State University (ECSU) campus this Sunday, August 28, between 10 a.m. – 2 p.m., for the annual Back 2 School Bash and Food Drive for students in kindergarten through 12th grade.
ECSU's radio station, WRVS 89.9, is hosting the event and food drive with several community partners to provide FREE haircuts, school supplies, bookbags, food and much more.  This year, the Colgate Bright Smiles, Bright Futures mobile "dental office on wheels" will make its first appearance at the festivities to provide free dental screenings, education and treatment referral.
You are encouraged to bring a non-perishable food donation to the Bash to support the Food Bank of the Albemarle. In lieu of canned or boxed goods, donations can be made online.  Every $1 = four meals.
"The Back 2 School Bash supports K-12 students and their families in our community with the services and supplies they need for a positive, productive and healthy school year," says Melba Smith, director of radio and television services at ECSU.
More than 25 vendors will be onsite to provide FREE resource information, assistance and school supplies to K-12 students including:
Bookbags and school supplies (children must be present)
Haircuts
Food
Dental screenings
COVID testing
COVID vaccinations
Games, activities and face painting
Raffles
The ECSU D'Lytes cheering team, the ECSU Sound of Class marching band, and Ty of WRVS 89.9 will make special appearances at the Bash.
The partners for the 11th annual Back 2 School Bash and Food Drive are WRVS 89.9, W18BB-TV, ECSU, the Elizabeth City Police Department, and Elizabeth City-Pasquotank County Parks & Recreation.
---