Jethro Pugh ECSU alumnus inducted into National Black College Alumni Hall of Fame
---
Kesha Williams
April 12 2010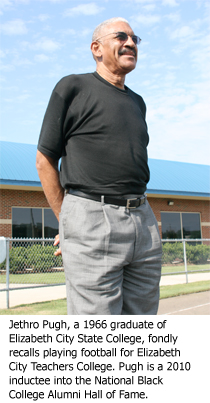 The National Black College Alumni Hall of Fame Foundation selected Jethro Pugh a 1966 graduate of Elizabeth City State College (now Elizabeth City State University ECSU) and a native of Windsor N.C. for its 2010 class induction. The ceremony for the inductees will be held on September 24 at the Hyatt Regency Hotel in Atlanta Georgia.
Pugh played four years as defensive tackle and offensive tackle for the university before being drafted in the 11th round of the NFL (1965) by the Dallas Cowboys. He and the Cowboys won 4 NFC Championships and two Super Bowl Championship rings. While a Dallas Cowboy he made an undeniable list of accomplishments on defense. Pugh led the team in quarterback sacks each season from 1968 to 1973 a statistic the NFL was not collecting during his career. He played with the Cowboys from 1965 to 1978 and participated in 23 playoff games. Pugh was inducted into the CIAA Hall of Fame in 1979 and the North Carolina Sports Hall of Fame in 1980. After playing with the Cowboys he went on to have a successful career as the owner of themed-gift shops in the Dallas International Airport. He's looking forward to the National Black College Alumni Hall of Fame ceremony.
&quotI am excited to be inducted into this hall of fame. I grew up during the civil rights movement and I know so many great people pushed to open doors for us&quot Pugh said.
&quotI hope young men who are playing football now will realize they can use the discipline from the game of football to build character. Football is like life–you have a game plan you tweak it here and there and then execute the plan. You can't win every game but you can learn a lot by playing the game fairly.&quot
ECSU Chancellor Willie Gilchrist congratulates Pugh on his induction. He applauds Pugh for his dedication to ECSU and the motivational speeches he's provided to student athletes.
&quotNot only is this a positive recognition for Elizabeth City State University but one for Bertie County. He is a native of Bertie County. He has provided several initiatives at the university and given back financially. He's also provided lectures for our athletes&quot said Gilchrist.
Mr. Thurlis Little athletics director for ECSU played at Elizabeth City State College football four years with Jethro Pugh. Little said this hall of fame induction is a great honor for Pugh. He applauds Pugh for his accomplishments as an outstanding student athlete professional athlete and successful businessman. Current students look at Pugh and see a good model of a successful person who graduated from a small college.
&quotOur students can look at Jethro Pugh and say 'If he can obtain that level of success I can do it too.' He is proof that a student with the right amount of determination coaching skills and talent can rise from the bottom level as a freshman and move on up to the top to have a successful career. This university offers that to any student who strives for success&quot said Little.
&quotI'm really proud of Jethro. You had to be a tough guy to play football in those days before they made the kind of advancements in football fields and training facilities that we see today. His accomplishments placed his name on hall of fame lists among other great athletes. His accomplishments in the NFL also gave our university some national recognition. We are proud of him and I'm sure the people in his hometown Windsor are too.&quot
The National Black College Alumni Hall of Fame Foundation is dedicated to the growth and development of the nation's HBCUs and is committed to securing supplemental scholarships for students attending those institutions. The organization also seeks to highlight the accomplishments of HBCU distinguished alumni.
---