Jenkins Green earn top honors at ECSU athletic banquet
---
April J. Emory
May 16 2011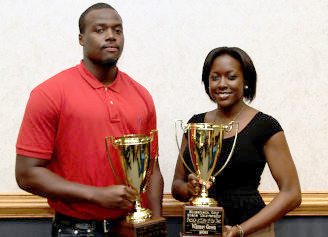 The Elizabeth City State University Department of Intercollegiate Athletics held its annual Sports Banquet recently to honor our best performing student athletes.
The evening's top honorees were Malcolm Jenkins and Whitney Green who were named the Male and Female Athletes of the Year respectively.
Malcolm Jenkins who was also named the football team's defensive MVP wraps up a stellar career at ECSU. As a senior he was named the CIAA Defensive Player of the Year and ranked second in NCAA Division II in sacks. The Florence N.J. native received Daktronics All-American honors and was one of eight national finalists for the Gene Upshaw Award given to the nation's top lineman.
Whitney Green was selected as Female Athlete of the Year after leading the Lady Viking volleyball team to their fourth straight division title and an undefeated record (18-0) in the CIAA. Green was voted the CIAA Rookie of the Year and was named to the All-CIAA second team as an outside hitter. She is the first freshman to be named the Female Athlete of the Year at ECSU.
Volleyball player Regan Simpson received the Ralph and Joyce Cole Award given to the student-athlete majoring in Education with the highest GPA (3.903). Rondy Tucker and Kenyatta Gill were honored with the R.L. Vaughan Basketball Awards while T.J. Jones was chosen for the Thurlis and Brenda Little Award as the top football offensive lineman.
ECSU golfer Matthew Carter was honored with the S.A.A.C. Academic award for sporting the highest GPA with a perfect 4.0 while Heather Smith was selected for the Addie W. Griffin Award.
The evening's MVP's were Kyle Meads (Baseball) Oasis Ellison (Softball) George Harris (Golf) Phyllis King and Tiffany Brown (Co-MVP -Tennis) Shante' Lyttle (Cheerleading) Shanice Watkins (Bowling) Kenyatta Gill (Women's Basketball) Rondy Tucker (Men's Basketball) Lia Scott and Whitney Green (Co-MVP-Volleyball) Kenny White (Men's X-Country) Yasmine Washington (Women's X-Country) Malcolm Jenkins (Football-Defensive) and Daronte McNeill (Football-offensive).
---