Jae Sinnett Trio brings original compositions to ECSU
---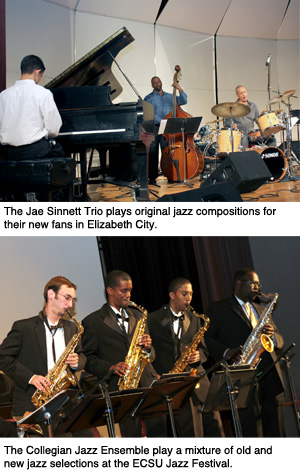 Kesha Williams
April 09, 2012
Elizabeth City jazz fans nearly filled the Floyd Robinson Auditorium to hear the renowned the Jae Sinnett trio. Sinnett is a recording artist, radio show host and composer.
The trio open the evening with a mix of straight ahead and jazz fusion selections.  All of the selections were original compositions by Jae or members of his trio.  The audience gave the trio thunderous applause. Sinnett's' festival appearance was essentially a Master Class for our ECSU music majors where his group demonstrated rhythm section techniques essential to any jazz group.
The Collegians Jazz Ensemble followed the trio on stage with an enthusiastic mix of old Jelly Roll Morton's &quotKing Porter Stomp&quot and the new recent Grammy winning song &quotDon't Know Why.&quot   Three vocalists, students at ECSU, also sang with the Collegians Jazz Ensemble, making the annual Jazz Festival one of the events fans will long remember.
---