Internationally Acclaimed Photographer and ECSU Alumnus Joshua Rashaad McFadden Examines Black Masculinity in Latest Exhibit
Posted On February 14, 2020
---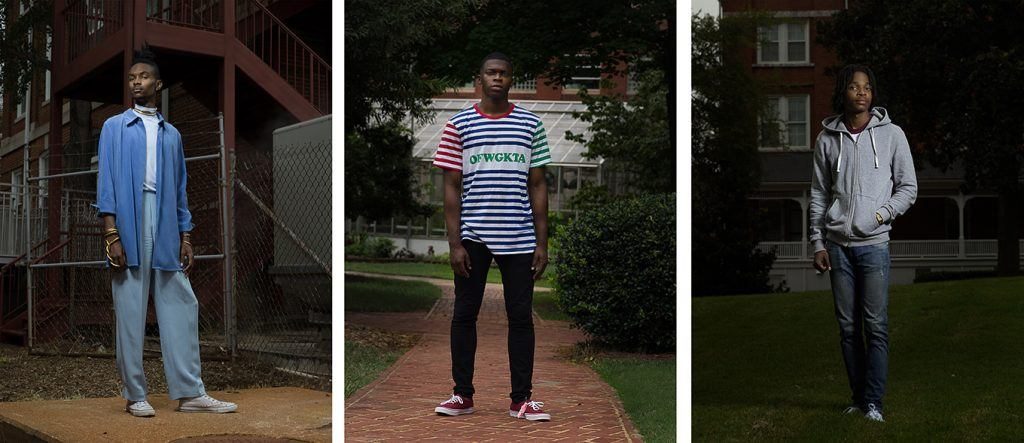 Elizabeth City State University graduate and internationally acclaimed photographer, Joshua Rashaad McFadden's latest exhibition, "Evidence," aims to share new ideas on black masculinity.
Mr. McFadden's work is on display at Visual Studies Workshop from Feb. 21 to June 27, and marks his hometown debut in Rochester, New York. A 2012 ECSU graduate, Mr. McFadden has held exhibitions and workshops at his alma mater.
Mr. McFadden was recognized as one of Time Magazine's "American Voices" and received the Duke University Archive of Documentary Arts Collection Award for Documentarians of Color. His "I Am A Man" photographic series with the Smithsonian Magazine won him the 2018 Communication Arts Award of Excellence.
Mr. McFadden uses portraiture and archival imagery to explore themes and concepts related to identity, masculinity, history, race, and sexuality. "Evidence" is the latest in his ongoing series centering on black men.
In his acclaimed exhibit and award-winning book, "Come to Selfhood," Mr. McFadden presented a collection of portraits culled from a random sampling of young adult black men displayed alongside photos of their fathers and father figures around their age with handwritten meditations on masculinity and race. "Evidence" features images of the men he photographed in the North and South that also serve as documentation of their existence, according to Mr. McFadden.
Mr. McFadden says the public arts project incorporates The North Star, the newspaper published by Rochester adopted son and American icon Frederick Douglass, who was once enslaved, as well as explorations of black male identity and ruminations on freedom. Original editions of Frederick Douglass' The North Star newspapers dating back to the 1800s will be displayed in the exhibition at Visual Studies Workshop.
As a public art project, "Evidence" also distributes its own "newspaper" filled with fresh essays and prose examining black male identity historically and in the present-day. The voices of award-winning playwright and "New Amsterdam" TV series writer Jireh B. Holder, actor/singer Dyllón Burnside (best known for his role as Ricky Evangelista in the series "Pose"), historian K. Anthony Jones, renaissance man Thomas Allen Harris who is a director, photographer, writer, and professor, as well as Mr. McFadden himself, shed light on the multifaceted existence of black men while exploring issues critical to the past, present and future.
---