International Tea Kicks Off International Education Week
Posted On November 19, 2019
---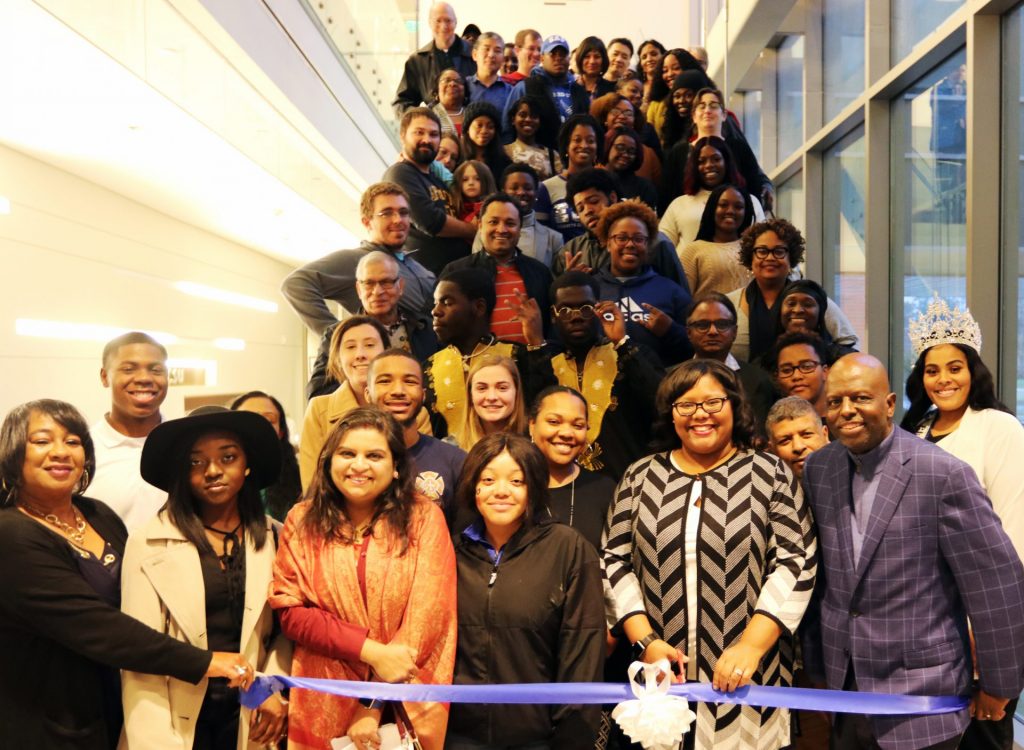 Provost Dr. Farrah Ward prepares to the cut the ribbon signaling the start of International Education Week at ECSU Monday, Nov. 18. An International Tea launched the week of celebrating the university's international diversity.
After water, tea is the world's most popular drink, so it is perhaps appropriate that it was at the center of Elizabeth City State University's International Education Week kickoff. The International Tea was held in the lobby of the Gilchrist Complex, and it was attended by a host of students, faculty, and staff. 
"I'm really proud to see the students come out for International Education Week," said Emmanuel Butts, ECSU's Student Government Association president.
The International Tea was sponsored by the Office of International Programs and the PACE Center.
The event opened with a number of comments from faculty, staff and students. In the lobby, tables were set, and a buffet line of desserts and a large variety of international teas were available for sampling by the many people gathered for the occasion.
"This is a good time to get together. It's a good time to get to know one another," said business professor, Dr. Debjani Kanjilal.
Dr. Andre Stevenson, director of ECSU's international studies program, introduced the week to come, highlighting the importance of the 30-year-old celebration of campus diversity.
"We are here to celebrate and learn about the importance of international engagement," said Dr. Stevenson.
ECSU's provost, Dr. Farrah Ward, said she has been at the university for more than 12 years. The "global faculty," she said, has contributed to the important diversity that makes up ECSU's campus, along with the growing diversity of students from a variety of countries.
"I am extremely happy to see the outpouring of students involved here today," said Dr. Ward.
Throughout the week, a number of events will take place to celebrate International Week:
° Games from around the world will be held on Tuesday, Nov. 19, from 6-8:30 p.m., in Williams Hall room 133.
° On Wednesday, Nov. 20, in the Ridley Student Center, room 206, the International Forum will happen from 3-5 p.m. Participants will listen as faculty members from diverse backgrounds discuss global areas of interest based on international research.
° Thursday, Nov. 21 is International Film Night. The event will be held in the Ridley Student Center, room 206, from 6-8 p.m.
° And finally, on Friday, Nov. 22, on the first floor of the Ridley Student Center, the International Fair and Dinner happens from 6-8 p.m. This event has been highly anticipated by the larger Elizabeth City community over the years and will include faculty and staff celebrating their cultural heritage in costumes relating to their country of origin, as well as other events.
---