International Tea Kicks Off Celebration of International Diversity
Posted On November 14, 2017
---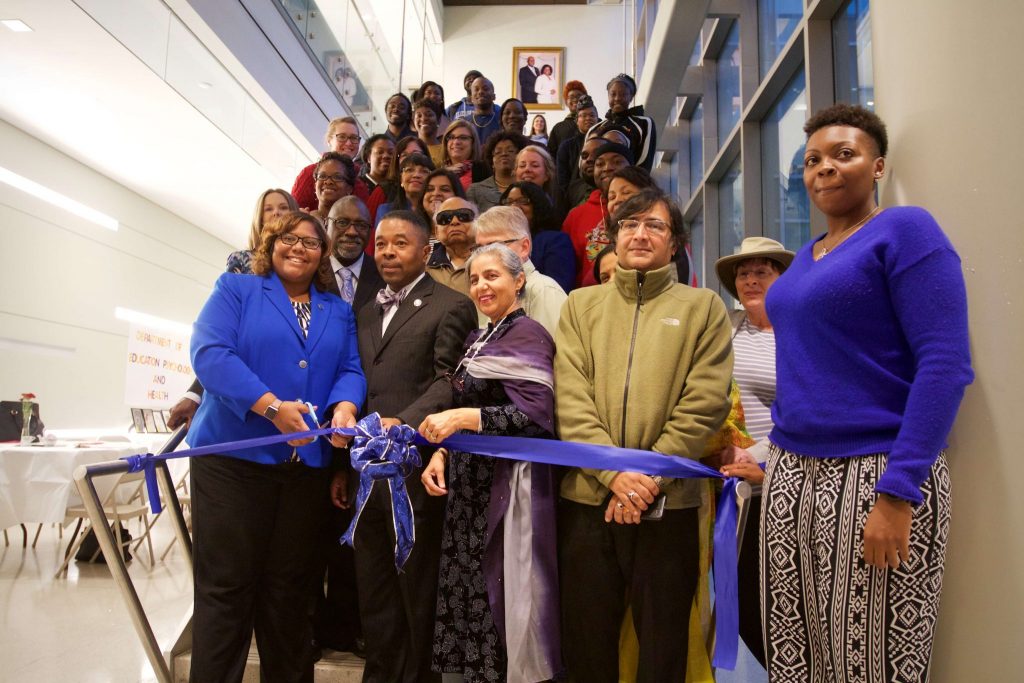 Dr. Farah Ward, left, prepares to cut the ribbon at the Elizabeth City State University International Tea, kicking off International Week 2017.
Elizabeth City State University students, faculty, and staff are celebrating the diversity that makes this campus thrive, launching the annual International Week Monday with an International Tea at the Gilchrist Complex.
More than 50 people gathered in the lobby to sample a variety of teas, cakes and cookies, coffee and listen as faculty celebrated the cross section of cultures that make up ECSU.
Psychology professor Dr. Kulwinder Kaur-Walker has been teaching at ECSU for 20 years, and Monday she was celebrating the launch of a week full of events as the evening's emcee. Along with Dr. Kaur-Walker, Faculty Senate Chair Dr. Scott Bradshaw spoke to the crowd, reading a resolution which supports the Deferred Action for Childhood Arrival, young immigrants who arrived in the United States with their parents, as illegal immigrants.
"The Faculty Assembly supports the Deferred Action for Childhood Arrivals (DACA) recipients and is troubled by the potential loss of their opportunity to continue as students in our universities," Dr. Bradshaw stated, reading from a statement.
But the International Tea, and subsequently the week of events, is also a celebration of the diverse cultures that make up ECSU.
The week continues in the Gilchrist Complex, room 106, with the International Forum Tuesday, from 2 p.m. to 3:30 p.m. Participants will listen as five faculty members from diverse backgrounds discuss global areas of interest based, according to Chambers, on international research.
On Thursday, Nov. 16 it's International Film Night featuring, "The 100-Foot Journey," starring Helen Mirren. This comedy tells the story of a feud between two adjacent restaurants in a French town, one specializing in Indian cuisine, and the other an award-winning French eatery.
The screening of "The 100-Foot Journey" happens in the Pharmacy Complex, room 102, starting at 6:30 p.m. Popcorn and drinks will be served before the film.
And finally, on Friday, Nov. 17, in the K.E. White Center, the big event, the International Dinner, happens from 6 p.m. to 8 p.m. This event has been highly anticipated by the larger Elizabeth City community over the years, and Chambers says there will be plenty to look forward to, including games and dancing.
But it is the food that brings people to the International Dinner, and there will be plenty of it. ECSU faculty will be cooking up some of their favorite dishes from their native lands, while area restaurants such as Montero's, Three Amigos, and Dragon Buffet will be serving international cuisine as well.
In addition to International Week, ECSU is also celebrating American Education Week. Dr. Saundra Copeland from the Department of Education, Psychology and Health spoke during Monday's tea about the event. A list of happenings on campus include a school supplies and food drive, an educator panel discussion which happened Tuesday, at 11 a.m., and lecture by history professor Dr. Glen Bowman on "The Politics of Graduate Education: How Elizabeth City State Became More Than a Baccalaureate Institution," taking place Thursday at 5 p.m. in room 107 of the Gilchrist Complex.
---