International Program offers ECSU students new options
Posted On November 22, 2010
---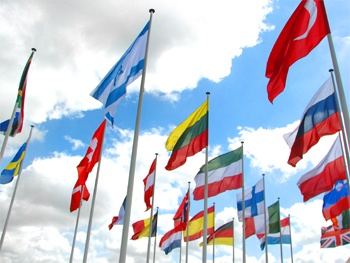 Kesha Williams
November 22, 2010
Elizabeth City State University students are going global.
That's the goal of Torian L. Lee, director of international programs at Elizabeth City State University.
With a combination of study abroad opportunities and exposure to international issues and cultures, ECSU students can broaden their understanding of other countries and people while making themselves more marketable to future employers.
&quotWhat we're trying to do here is to develop global leaders,&quot said Lee. &quotIf you look at virtually every aspect of American society, you can see how it's tied into the global marketplace – whether it's the T-shirt you buy that's made in China, or the factory that has been uprooted from Ohio and moved to somewhere in Asia. Everything's interconnected,&quot he said. &quotAnd the more opportunities we offer students to see this, the better.&quot
One major initiative to bring the world to ECSU is through the annual International and American Education Week celebration.
Held for the 46th year, the event opened Monday (Nov. 15) with a ribbon-cutting ceremony and tea at Ridley Student Center. It has been followed with a variety of daily forums, receptions, mixers and speakers to engage students, faculty and the entire community.
In addition to several faculty presentations on their work abroad, speakers included Dr. Henry L. Johnson, former U.S. assistant secretary of education, and Sophie Woodruff of New York, a Fulbright alumni ambassador.
A &quotTeachers of the Year&quot luncheon on Thursday (Nov. 18) at the K.E. White Graduate Center recognized local community teachers for their outstanding service to students.
For many, the highlight of the week is the festive International Dinner, featuring food, music, fashion, dance and art from around the globe. Students, faculty and community members with international ties come together at the K.E. White Graduate Center and celebrate the rich cultural diversity of their families and heritage.
&quotIt's a lot of fun,&quot Lee said, noting the Mosaic Steel Drum Orchestra from Norfolk, Va., will play, the Albemarle Filipino Folk Dance Group will perform and Zumba and salsa demonstrations will be showcased.
&quotEveryone looks forward to it — the Asian community, the Latino community, the African community, the Caribbean community,&quot Lee said. &quotAt the end of it, there's a fashion show, where everyone displays their outfits by walking across the stage.&quot
At least 20 to 25 nations are represented at the free event, he said. Last year, the festive evening drew more than 200 people, he recalled.
The keynote speaker for the evening is C.K. Kwai, director of the University of North Carolina Exchange Program. ECSU is part of the exchange, which allows students from ECSU to study for a semester or a year at one of 75 partner institutions in Brazil, Uruguay, Germany, Australia, Sweden, Finland, Denmark, Canada and Mexico.
Another 40 countries are open to ECSU students for foreign study through the International Student Exchange Program, a third-party provider of international study.
A major advantage of the UNC Exchange Program, Lee said, is the cost. Because of the exchange, ECSU students pay the same tuition they would to attend ECSU to study at a foreign university that may cost thousands of dollars more to attend.
&quotIt's really a great deal for our students to be able to pay our tuition and the foreign university's room and board&quot rate, Lee said. &quotStudents can apply all of their ECSU financial aid, their scholarships and federal aid&quot to their study abroad costs, he said.
Lee also helps students identify and apply for scholarships and other assistance to help pay for travel and other expenses that some students may view as a roadblock to studying abroad.
Language also isn't a barrier, he said, because, with a few exceptions, classes are taught in English.&ampnbsp&ampnbsp
&quotFor example, we send students to the University of Mannheim in Germany, which has one of the leading business schools in Europe. And the language of instruction there is English. Same for the Tecnologico de Monterrey in Mexico, and obviously in Australia,&quot he said.
During the 2009-2010 academic year, six ECSU students studied abroad in Australia, Germany and Mexico. Each went on a semester-long program.
As part of the exchange, ECSU was host to six students from four nations – Denmark, Sweden, Germany and Mexico, Lee said. The German student, who studied at ECSU for an entire academic year, became so engaged with the International Club that she was voted Miss International for Homecoming 2009, he said. She also became attached to the university.
&quotShe was so impressed with ECSU that she wants to come back for VikingFest this year,&quot Lee said.
The university also has enrolled a number of students born in foreign countries, or their parents were born elsewhere, but who are permanent residents of the United States. They, too, bring international flavor and knowledge to the ECSU campus, Lee said, along with a fair percentage of faculty members who likewise have ties to other nations.
Foreign study has a tremendous impact on students that extends beyond the lessons in the classroom, Lee noted.
&quotThey come back changed individuals,&quot he said. &quotThey have an increased awareness of the culture they immerse themselves in. They have an enhanced perspective of the United States by being removed from it for such a long period. And they definitely all have the travel bug,&quot he laughed.
ECSU students make international connections and build lasting friendships with students and others in the host country, as well as with students from other nations who also are studying at the foreign university.
&quotYou meet folks from all over the world who are doing the same thing you're doing,&quot Lee said. &quotEven if you're studying in Australia, you may make a friend from Poland, or a friend from China, who you may wind up visiting during the summer.&quot
Lee, who earned a law degree from Capital University Law School in Columbus, Ohio, knows firsthand how foreign travel broadens one's horizons. In 2005, while serving as director of student and minority affairs at Capital University, Lee was selected by the J. William Fulbright Foreign Scholarship Board to participate in the Fulbright International Education Administrators Program in Germany.
He is counting on other faculty at ECSU to help internationalize the campus and to spark student interest in studying abroad. Already, faculty members are engaging students in a variety of research opportunities that are opening the world to undergraduate and graduate students, he said.
ECSU students have traveled to Africa with Dr. Bonita Ewers, professor in the School of Education and Psychology. She is a co-founder of the Global Leadership Academy, a faculty-led program designed to expose students to international issues and to conduct international service-learning projects. The academy has brought former African heads of state and ambassadors to the campus for roundtable discussions on international issues.
And for the past several years, Dr. Ephraim T. Gwebu, chair of ECSU's Department of Chemistry, Geology and Physics, has led 10 ECSU students from various disciplines to South Africa each summer for research on African plant extracts and their potential in treating diseases such as Alzheimer's and prostate cancer.&ampnbsp
Lee also is working with campus officials to expand language offerings on campus to include more than Spanish and French.
&quotWe hope to eventually expand that to offer some of the lesser taught languages&quot such as Mandarin and Arabic, Lee said. &quotWe've discussed as a system ways that campuses can interact, perhaps through videoconferencing, so that maybe a Portuguese class at North Carolina A&ampampT, or a Japanese class at East Carolina&quot can be taught at ECSU.
&quotThe (UNC) system as a whole recognizes that each campus has programs that could benefit other constituent universities,&quot he said. &quotWe're trying to work to collaborate on some of those. These kinds of partnerships open the world to our students.&quot
---