In Wake of Hurricane Dorian, Wells Fargo Awards $50,000 to ECSU for Ocracoke Island Business Recovery
Posted On October 23, 2019
---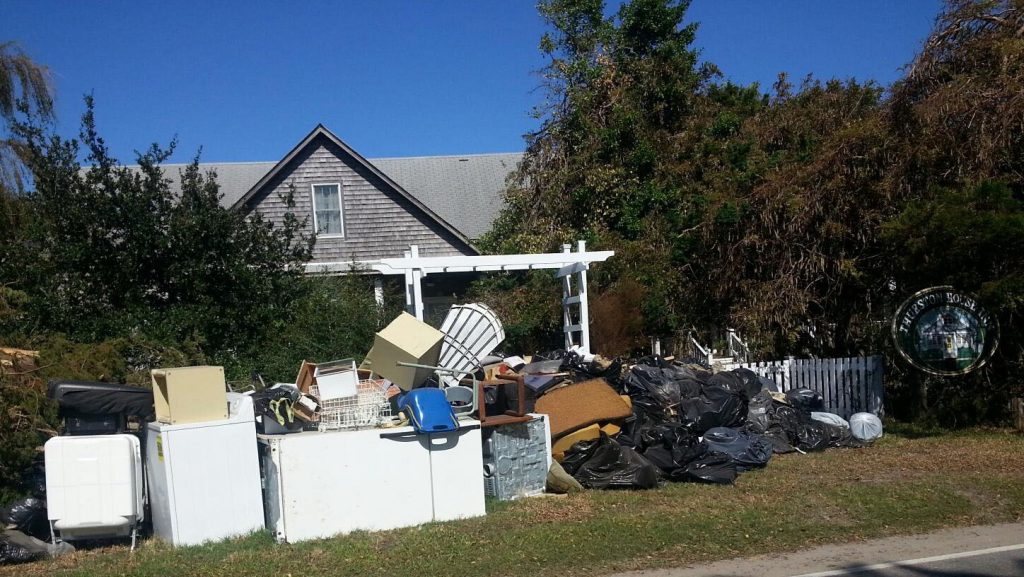 In this photo taken by ECSU's director of the Office of Small Business and Technology Development, Michael Twiddy, an Ocracoke Island business is gutted after Hurricane Dorian flooded the village. Thanks to a grant from Wells Fargo, Mr. Twiddy will work with businesses on recovery efforts.
Wells Fargo has awarded a $50,000 grant to the Elizabeth City State University Office of the Small Business and Technology Development Center, or SBTDC, through the ECSU Foundation   to aid Ocracoke Island businesses hit by Hurricane Dorian.
When Hurricane Dorian devastated the Outer Banks island of Ocracoke in September, historic flooding put the small island village under as much as seven feet of water. A large number of residences and businesses were destroyed in the hurricane's path.
ECSU Foundation Board chair, Dr. Peter Eley, said the Foundation received the Wells Fargo grant check during the ECSU Homecoming halftime event. He says the Foundation was able to hand the funds over to the SBTDC to be administered for the sake of the people of Ocracoke Island.
"As the Foundation, we're happy to support the SBTDC and helping with the Ocracoke recovery through the Wells Fargo grant," said Dr. Eley.
According to SBTDC director, Michael Twiddy, the grant funds will aid the center in business recovery and to provide guidance with new business development on the island. Mr. Twiddy says the areas of focus for the SBTDC will be business recovery and survival, business sustainability, and new business opportunities.
"Our work with the businesses includes assisting them in getting books and records ready to be submitted for insurance and for funding," said Mr. Twiddy. "Often books and records have been lost or destroyed in the storm, so we can work with a business to re-create those historical financial documents, which are vital to compiling economic injury for the Small Business Administration. We will work closely with each client's submission."
Mr. Twiddy says the SBTDC has identified 92 island businesses. He says the center believes the center can assist a third of those businesses.
"I have set an initial center goal of 30 businesses with the hope of reaching more," he said. "Remember, some businesses possibly will not reopen. And there will be some new business opportunities created."
Mr. Twiddy says the Ocracoke Island business community will require "long-term, low interest financing" to rebuild their establishments. There will be, he said, some modernization of their equipment involved in the rebuild, "Especially around cold storage that is energy efficient."
The short term focus of the grant funds will be on business recovery and survival, said Mr. Twiddy. The longer term focus will be placed on business sustainability.
"And also providing assistance to new business opportunities," said Mr. Twiddy. "This begins the foundation for the next generation of the Ocracoke business community."
---