HUD awards ECSU $800000 as part of almost $2.4 million awarded to Historically Black Colleges and Universities
---
Kesha Williams
June 14 2011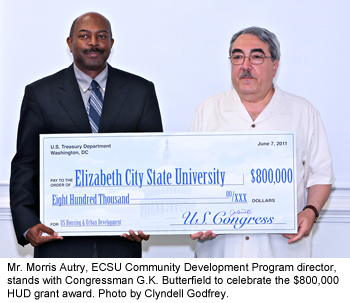 U.S. Housing and Urban Development Secretary Shaun Donovan recently awarded nearly $2.4 million to Historically Black Colleges and Universities to help revitalize neighborhoods and promote affordable housing near their campuses.
&quotHistorically black colleges and universities play a unique role in helping to revitalize local communities&quot said Donovan. &quotHUD is proud to be partnering with these colleges and universities to help them improve neighborhoods and stimulate economic development around their campuses.&quot
&quotThese Historically Black Colleges and Universities are cultivating young innovative minds and play an essential role in strengthening local communities&quot said Ed Jennings Jr. HUD Region IV Regional Administrator. &quotWe are so proud of the opportunity to partner with these institutions in this most worthwhile endeavor.&quot
The following Historically Black Colleges and Universities were awarded funding:
Elizabeth City State University (Elizabeth City NC) received $800000
Tennessee State University (Nashville Tenn) received $789031
Norfolk State University (Norfolk Va.) received $800000
The funding is provided through HUD's Historically Black Colleges and Universities (HBCU) Program which is designed to help these institutions address community development needs in their communities. These needs include neighborhood revitalization housing and economic development and other programs that benefit low- and moderate-income families.
The funds may also be used to: demolish blighted structures rehabilitate homes assist community-based development organizations to carry out neighborhood revitalization and provide down-payment and closing cost assistance to low- and moderate-income homebuyers.
ECSU's Community Development Program received the $800000 award. The money will be used for assorted purposes in six counties— Pasquotank Perquimans Chowan Currituck Gates and Camden.
Repairs to substandard homes owned and occupied by senior citizens and low income residents. The staff will identify local contractors who complete the renovations.
Housing counseling home buyer education and financial literacy programs-services that are open to the general public and provided by the Community Development Program staff.
Community Development Program staff and student workers will provide home energy conservation workshops and evaluations.
Green job awareness workshops and training
Down payment/closing cost assistance for qualified first time home buyers
Serving as a resource for community based organizations to carry out community economic development and related social service projects which target people in low income and economically distressed areas.
Morris Autry director of the ECSU Community Development Program said the HUD funds have in the past been quite useful in helping residents who truly need assistance.
&quotGrants of this sort allow us to provide different types of services within our community such as counseling educational workshops homebuyer assistance and modest home repairs&quot Autry said. &quotIn the case of home repair services while we are here to help our assistance is limited to qualified applicants whose homes fall within a specific range of repairs.&quot
Primary emphasis will be placed on bringing homes up to code and making them safe and energy efficient. This project will assist low-and moderate-income families in obtaining decent safe and affordable housing. Housing services will include: housing counseling and financial literacy services for 250 residents financial assistance to 25 first-time homebuyers with down payment and closing cost assistance and home energy conservation education aimed at reducing home energy consumption and costs for over 300 households. ECSU will undertake a job training initiative that will develop new job skills for 25 under-and-unemployed target area residents. This project will also provide technical assistance services to strengthen the capability of community based organizations to carry out community economic development and related social service projects targeted to people in low-income and distressed areas.
U.S. Rep. G. K. Butterfield appeared at ECSU June 7 to announce how pleased he is to see this grant money serving residents in northeastern North Carolina.
The Historically Black Colleges and Universities Program is one of several initiatives administered by HUD's Office of University Partnerships (OUP). Established in 1994 OUP is a catalyst for partnering colleges and universities with their communities in an effort to address pressing local problems. For more information about HUD's partnership with institutions of higher education visit HUD's website.
###
HUD's mission is to create strong sustainable inclusive communities and quality affordable homes for all. HUD is working to strengthen the housing market to bolster the economy and protect consumers meet the need for quality affordable rental homes: utilize housing as a platform for improving quality of life build inclusive and sustainable communities free from discrimination and transform the way HUD does business. More information about HUD and its programs is available on the Internet at www.hud.gov and espanol.hud.gov.
For more information on the nearly $2.4 million allotment contact: Joseph J. Phillips (678) 732-2943.
Kesha Williams director of Media Relations at ECSU contributed to this story.
---