Homecoming 2019 Royal Coronation Celebrates Mr. and Miss ECSU
Posted On October 15, 2019
---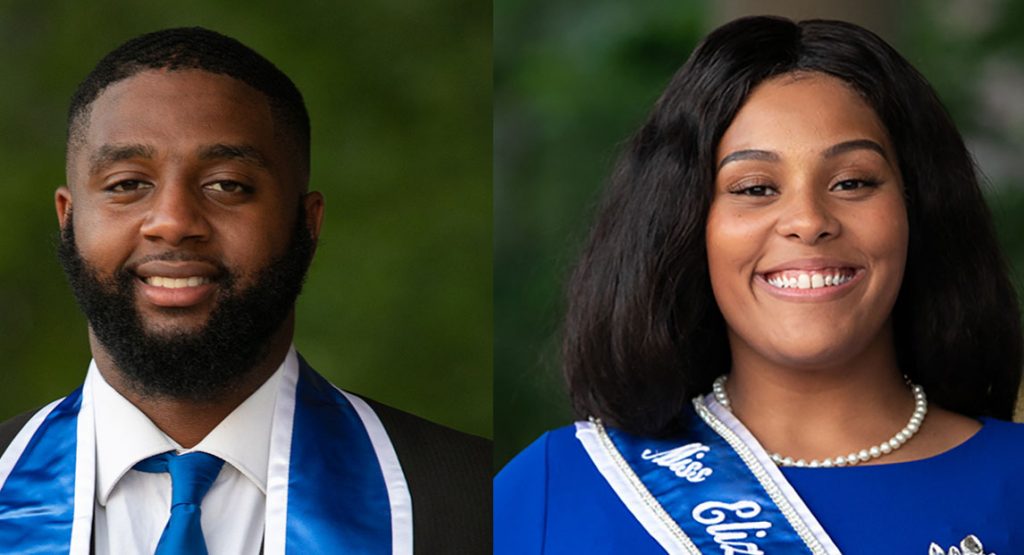 One is a graduate student and public school teacher, while the other is senior whose mission is to bring "holistic wellness" to Elizabeth City State University. Together, De'Quante McKoy and Nyasia Luke are Mr. and Miss ECSU, and they will be celebrated Wednesday during the annual Royal Coronation.
Each year during Homecoming, ECSU students gather to celebrate Mr. and Miss ECSU during an extravaganza fit for royalty. The Vikings Unleashed ECSU Homecoming 2019 Royal Coronation will be held at the Burnim Fine Arts Center Wednesday, Oct. 16 from 6 p.m. to 8 p.m., with the Royal Reception following at the Ridley Student Center from 8 p.m. to 10 p.m.
Miss ECSU, Nyasia Luke, is a junior social work student from Eure, North Carolina. As Miss ECSU, she launched a platform to promote wellness across the campus.
According Ms. Luke, she believes the physical, mental, and spiritual health of people "is equally imperative to their overall wellbeing." Her work on campus and throughout the surrounding community emphasizes the need for balance in the professional and personal lives of those she serves.
Ms. Luke says that through her work, she assists, guides, and encourages those around her "to rebuild their overall health in hopes of maintaining an abundant life."
Ms. Luke says her goal is to become a clinician of international social work and own her own practice.
Mr. ECSU, De'Quante McKoy, is a mathematician who earned his bachelor's degree from St. Augustine University in Raleigh. He is an ECSU graduate student, working toward his master's degree in mathematics.
Mr. McKoy is also a high school teacher at Currituck County High School. His goal after completing graduate school is to work for either the Federal Bureau of Investigation or the National Security Agency as a mathematician.
Aside from Mr. and Miss ECSU, the royal court consists of eight students: Miss Senior, Asia Honablew; Mr. Senior, Kiwan Combs; Miss Junior, Mekayla Stokley; Mr. Junior, Timon Stallings; Miss Sophomore, Taimara Hoffler; Mr. Sophomore, Daimon Rawlinson; Miss Freshman, Diamond Rawlinson; and Mr. Freshman, Tyrek Slaughter.
---