Hokies name Richardson assistant coach
---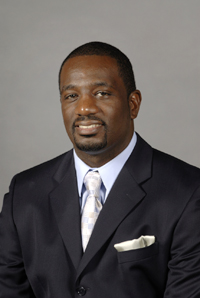 Courtesy of the Virginia Tech Athletics Department
June 15, 2010
BLACKSBURG, Va. – Virginia Tech men's basketball head coach Seth Greenberg has announced the hiring of John Richardson as an assistant coach with the program.
&quotJohn Richardson is a coach's coach,&quot Greenberg said. &quotHe has coached and had success at every level. He has developed players at the high school level. He was an integral member of one of the most well respected AAU programs in all of youth basketball with Boo Williams Summer League. He has had great successes as an assistant coach at the collegiate level. He is not only a great teacher, but he will be an outstanding mentor to our players and bring a wealth of experience to our staff.&quot
Richardson, the 2004 and 2005 Virginia High School Coaches Association AAA State Coach of the Year at Woodside High, comes to Blacksburg after spending the previous five seasons at Old Dominion University. At ODU, he was an assistant coach the last two seasons after serving as ODU's first Director of Basketball Operations in his first three seasons.
&quotIt is an honor to be a part of the Virginia Tech basketball family,&quot Richardson said. &quotI look forward to the challenges and rigor of the ACC. I really appreciate Coach Greenberg and his staff for embracing me and my family and I am ready to get to work.&quot
Richardson served as head coach of Woodside High School in Newport News, Va., for three years, winning the Virginia AAA State Championship in 2004 and 2005. He led Woodside to three Eastern Regional Championships and two Peninsula District (2004 and 2005) titles. Woodside won Peninsula District Tournament Championships in 2005 and 2002 when Richardson was an assistant coach. Richardson was also honored as the Associated Press AAA Coach of the Year in 2004.
Prior to becoming head coach at Woodside, Richardson was the head junior varsity coach at Woodside from 1996-1999. He also served as an assistant coach and junior varsity coach at T.C. Williams High School in Alexandria, Va. in 1999-2000.
From 1996 until his hiring at ODU, he served as an assistant coach for the Virginia Amateur Athletic Union (AAU) 17-under all-star traveling team in the Boo Williams program, as well as counseling positions at various basketball camps.
Richardson graduated from Elizabeth City State University in 1995 with a degree in health and physical education with a minor in biology. He received a master's degree from Old Dominion University in 2003 in sports management. Richardson was a four- year basketball lettermen at Elizabeth City State.
John and his wife Leah welcomed their first child, John IV on December 16, 2009. John has a son, Devon, who is a sophomore at Norfolk State University.
---