Her ECSU Education Leads Charlotte Native Rice to Doctoral Program
Posted On October 19, 2016
---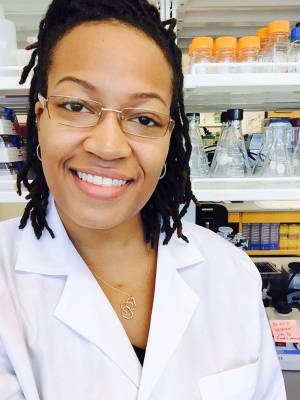 If you know 2013 Elizabeth City State University graduate Brittany Rice, then you may know that it won't be long before she's called Dr. Rice. The Viking alum is currently a first-year biomedical student at the University of Kentucky's Kentucky Bridge to a Biomedical Doctorate for Appalachian Students program.
The program, according to UK's website, provides Appalachian and underrepresented students the opportunity to enter biomedical doctoral programs. Prior to entering the UK program, Rice received her master's in biology from Eastern Kentucky University after doing post-baccalaureate research at Virginia Tech.
We asked the 26-year-old Charlotte native a few questions about life as a Viking, her college experience and her journey toward or doctorate degree.
Elizabeth City State University: Why did you choose ECSU?
Brittany Rice: It was important to me to attend a university that had students and faculty who come from similar backgrounds and circumstances, and who have had similar cultural experiences as myself. It was also equally important to be at an institution that embodied an atmosphere of community and collaboration among the student body, professors, and faculty. After touring the campus and avidly speaking with Grady Deese and Larry Smith (former deceased faculty), I realized that ECSU offered the supportive atmosphere I desired.
ECSU: Describe your experience at ECSU.
BR: My time at ECSU was very enriching. Not only was I able to achieve academic success, but I was also provided the environment to grow as an individual and as a contributing member of a larger community.
ECSU: How did your experience here help you move onto to a doctoral program?
BR: As a student under the tutelage of Dr. Ephraim Gwebu (former ECSU professor and department chair), I was afforded the opportunity to participate in numerous extensive research experiences as a 2010-2013 National Institutes of Health Minority Biomedical Research Support Initiative for Scientific Enhancement (NIH-MBRS RISE) fellow, and a 2012 National Institute on Minority Health and Health Disparities Minority Health International Training (NIH-MHD MHIRT) fellow. These experiences prepared me to pursue a doctoral degree by enhancing my understanding and knowledge of biomedical sciences and allowing me to gain expertise in a variety of research techniques.
ECSU: Talk about some of the experiences you remember at ECSU. What were some of the more significant moments for you as a student here?
BR: I had a number of memorable moments at ECSU, many in the research capacity. As I stated earlier during my matriculation as a student at ECSU, I was provided several opportunities to conduct research. Research I conducted was hosted at various institutions such as ECSU, Meharry Medical College (Nashville, Tennessee), and Walter Sisulu University (Mthatha, South Africa). My fondest research related memories were of rehearsals of &quottalks&quot (practice presentations) where &quotpromoted my science&quot (discussed research I engaged in as a ECSU student) with Dr. Gwebu, Mrs. Armwood-Outlaw, and Ms. Armwood (former director, coordinator, and administrative assistant for the National Institutes of Health Minority Biomedical Research Support Initiative for Scientific Enhancement program at ECSU, listed respectively), in preparation for my poster session presentations at national and regional scientific meetings. In the extra-curricular aspect of memorable moments, pledging (I am a PROUD MEMBER of Alpha Kappa Alpha Sorority, Inc.) and becoming a peer health educator were also very significant.
ECSU: You are interested in helping underrepresented students to pursue research careers. Who are those students? What would you say to them to encourage them?
BR: STEM+H (science, technology, engineering, mathematics and health sciences) professions fail to retain minorities, women, and persons of low socioeconomic status. As an African-American female once of low socioeconomic status, I understand the barriers to completion in regards to obtaining an education. I also understand the difficulty of preparing for a career and transitioning into a profession that lacks individuals from diverse backgrounds. My own experiences coupled with the lack of retention and participation of underrepresented individuals in STEM+H compel me to aid underrepresented students to pursue and obtain research careers in academia and industry using my success story for their inspiration and motivation.
My tidbit of encouragement for underrepresented students of STEM+H come from words I received several years ago from my mentor Dr. Ephraim Gwebu. He said, &quotLabels do not dictate your success, your success redefines given labels. Embrace your diversity as a strength. Know that inclusion starts with you.&quot
ECSU: What would you tell a student who is considering attending ECSU?
BR: There are many things to consider regarding the matriculation into an institution of higher education. If you want to receive a first-rate education from caring professors and faculty in a supportive atmosphere that encourages diversity and empowerment, ECSU is for you.
---