Health concepts course helps students reach their goals
Posted On January 11, 2010
---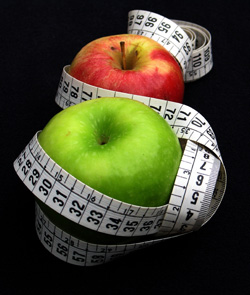 Bonnie Winston
January 11, 2010
The students in Dr. Lloyd W. Mitchell's class are serious about personal change – 2,000 pounds worth to be exact.
During the last three years, nearly 600 students who have enrolled in his Health Concepts class at Elizabeth City State University have dropped a collective ton of weight.
By year's end, he expects the figure to top 2,400 pounds.
&quotI'm very, very pleased with that weight loss,&quot said Dr. Mitchell, an assistant professor of health and physical education. &quotBut I'm also pleased with other aspects of the class – like leadership and self control.&quot
Indeed, Dr. Mitchell insists the two credit-hour course is not about weight loss, although that's one of the most visible results. It's about setting goals in each of eight different areas of health — physical, mental, spiritual, emotional, financial, environmental, community and professional/cultural health — and moving toward them. He hopes the resulting lessons in behavior modification and health will stick with the students long after they've left his class.
&quotThe goal is for every student to take control of their life,&quot Dr. Mitchell explained. &quotI want them to know that all of the things that bombard them every day – including their feelings, their thoughts, their fears, food, friends, stress – they have to command that. They have to take control. They are in the driver's seat. And if they do that, they will be happier and healthier.&quot
For each goal chosen, a student must set at least two objectives outlining actions on how to achieve the goal.
&quotThe objectives must be measurable and quantitative so that the students can put it into a chart or graph,&quot said Dr. Mitchell, who holds advanced degrees in public health, cultural geology and space studies.
At the end of the course's 12 weeks, the chart will clearly show progress – or lack of it – toward meeting the objective, and ultimately, the goal.
For example, students who set a physical health goal of reducing their weight may set objectives of exercising three times a week and of limiting their consumption of fried foods to once a week. They must chart their workout days and times and fried food consumption, and document their efforts by photos and other means.
Weldresha April Davenport never thought a professor and a class would have as much impact on her daily life as did Dr. Mitchell and the Health Concepts class.
The 25-year-old sophomore and Elizabeth City transplant from Mount Vernon, N.Y., said she'd tried many times in the past to lose weight without success. But in Health Concepts, &quotit made me evaluate myself and evaluate everything around me. It made me realize that the things around me were affecting me,&quot she said.
A family history taken for the class turned up members with diabetes, high blood pressure and cancer, Davenport said. As a result, she set goals to improve her physical and emotional health. The outcome: She shed eight pounds during the course of the class. Both have gone a long way toward improving her physical and emotional health.
That was in Spring 2009. Since then, she has continued her objectives of walking 45 minutes to an hour four times weekly and eating nothing containing high fructose corn syrup, including sodas, candy and certain seasonings. She has dropped a total of 26 pounds.
&quotDr. Mitchell and the class have inspired me,&quot said Davenport. &quotMy sister and a friend now walk with me when I walk in my neighborhood.&quot
She said what made this effort to lose weight different from those in the past was Dr. Mitchell.
&quotI tell people that I had somebody who was there backing me up, supporting me,&quot she said.
She recalled that she earned a &quotB&quot in the class.&ampnbsp Dr. Mitchell said students' grades are not dependent on how much weight they ultimately shed, but whether they are making demonstrable progress toward their goals.
&quotI am more concerned about whether they have taken control by engaging in behaviors that allow them to move toward the goal,&quot he said. &quotIt's challenging, but when the results come in, they are really pleased.&quot
While the average weight loss has been two to three pounds during the run of the class, one student continued with his physical health goal and lost a whopping 40 pounds during the school year. Over 200 students are enrolled in the fall semester course now. Every student in the course has improved in one of the eight health concept categories.
&quotAfter taking this course, students realize they can take control over several aspects of their lives and create a healthy future for themselves and their families,&quot Mitchell said.
---