Hands-on Undergraduate Research Opportunities Prepare ECSU Students for STEM Careers
---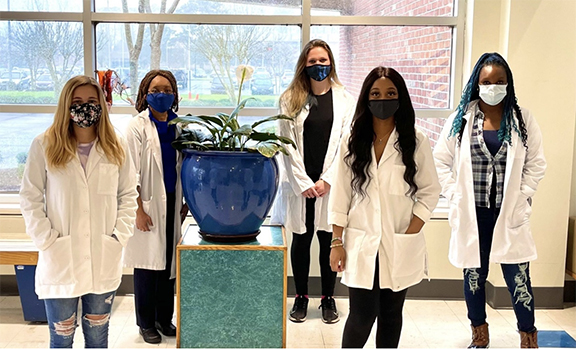 Hanna Holden is prepared for a life in science and more specifically, as a future veterinarian. She says that preparation is thanks to her experience as an undergraduate research assistant at Elizabeth City State University. 
Ms. Holden graduated recently with a degree in general biology. As a transfer student, she came to ECSU to pursue her degree in biology with hopes for a future in veterinary science. Her time spent working with biology professor, Dr. Margaret Young, helped her not only prepare for graduate school, but also her current work as a veterinarian assistant in Chesapeake, Virginia.
"I got so much experience," she said of working with Dr. Young in the research lab. "Dr. Young was a mentor to me and showed me how to conduct research the right way."
When ECSU presented its new five-year strategic plan in 2020, the Natural Sciences Department faculty "were reassured and encouraged," said Dr. Eyualem Abebe, Chair of the Department of Natural Science. A major component of the plan is student success and workforce preparation, and for biology students such as Ms. Holden, part of that success is tied up in hands-on experience.
"The faculty increases the student profile through research and preparation for the workforce by providing students with research experience beyond the classroom," he said.
While the new strategic plan outlines this work with students as a high-profile objective, Dr. Abebe, says it is not a new concept. The idea of bringing students into faculty-led research is a "tenet by which they had been guiding their professional efforts for years."
"They are not just teaching, they are actively engaging students in their own research," said Dr. Abebe.
Students such as Josiah Burnette, Shamira Jones and Jasmine Brumsey have found success inside ECSU's research labs working under the guidance of professors such as Dr. Roberto Froneta-Suau, Dr. Hirendranath Banerjee, and Dr. Feseha Abebe-Akele. Ms. Brumsey, for example, recently graduated with a degree in biology after working under the direction of Dr. Abebe, and she has plans to go onto to medical school.
Experience in the lab for these students, says Dr. Abebe, works to ensure a future in the workforce. And while student researchers are not uncommon on campus, he says the Department of Natural Sciences has expanded its lab training for undergraduates.  
"Current workforce need and companies hiring new professionals, demand trained manpower not only with the hard skills that are critical to do the job but are also showing more emphasis to soft skills such as communication, teamwork, critical thinking and problem-solving," he said of skills that are learned while working in ECSU's research labs.
During the spring 2021 semester, 16 Natural Sciences students participated in research programs. These students worked closely with their faculty supervisors, adopting both the hard skills and soft skills necessary to prepare them for STEM careers.
"These experiences make them more competitive in their future endeavors, including joining graduate and professional schools," said Dr. Rawat, dean of the School of Science, Aviation, Health and Technology.
Ms. Holden says her experience in the lab as an undergraduate has helped her with prerequisite training for veterinary school, and it has given her the training she needs to "get my foot in the door in the science field."
"It better prepared me if I ever want to get lab certified," she said.
As a result of their work in the lab, Dr. Rawat says undergraduate students have also been afforded the opportunity to present their research at conferences regionally and nationally. Such exposure, he said, "can easily translate into career paths and relationships that can open doors."
In short, students are better prepared for their futures.
"The experience has 100 percent left me better prepared," said Ms. Holden.
---