Growing Number of Students Choose to Transfer to ECSU
Posted On September 8, 2020
---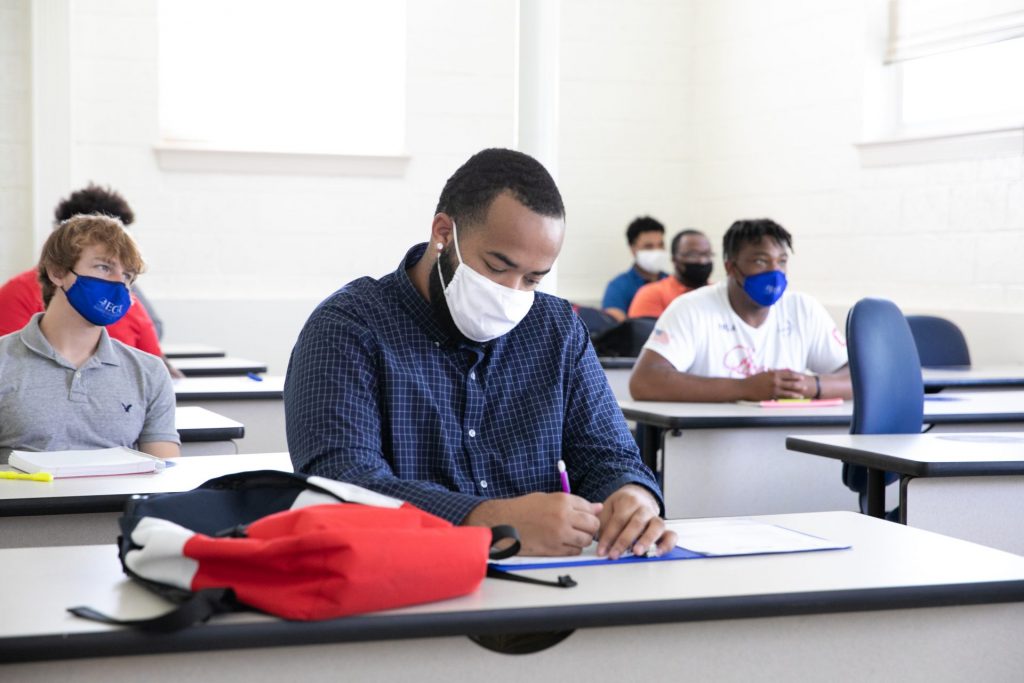 The number of students choosing to transfer to Elizabeth City State University from community colleges or other four-year institutions is on the rise, according to the recent fall 2020 enrollment census.
The efforts of the ECSU admissions team, coupled with articulation and co-admission agreements with a number of North Carolina community colleges has increased the number of transfer students by 27.8 percent over 2019.
ECSU's provost, Dr. Farrah Ward, credits the growth, in part, to a "strategic team approach."
"We have a dynamic enrollment strategy team, consisting of representatives from departments across the university," said Provost Ward. "They consist of representatives from various departments including admissions, financial aid, student accounts, registrar, university studies, distance education, graduate education, academic affairs, housing and residence life, student affairs, business and finance, auxiliary services, communications and marketing, and information technology."
ECSU's partnership with community colleges has spanned programs from aviation and education to criminal justice and social work. While students from the university's 21-county region in Northeastern North Carolina have long been aware of the affordable, quality education offered to them at ECSU, students across the entire state of North Carolina are becoming increasingly aware of the many programs offered at the institution.
In February 2019, ECSU entered into an articulation agreement with three community colleges, focusing on aviation. The agreements established a pipeline for students to transfer to the university to complete their aviation program degrees at the only four-year institution in North Carolina to offer a bachelor's in aviation science, including drone technology.
Students studying aviation science or drone technology at Guilford Technical Community College, Lenoir Community College, and Sandhills Community College have the opportunity to continue their education at ECSU. The three community colleges offer aviation programs and with these articulation agreements, students now have a seamless transition to advance their aviation degree work at ECSU.
Currently, the aviation industry is experiencing a shortage of pilots and more pilots are due to retire over the next decade, making aviation one of the fastest growing career fields in the country. Drone technology, according Dr. Kuldeep Rawat, Dean of the School of Science, Aviation, Health and Technology, offers more than 400 areas for career advancement, including agriculture, homeland security, and emergency management.
In the spring of 2019, ECSU entered into co-admission agreements with several community colleges, including College of the Albemarle. Co-admission agreements give students a direct pathway to ECSU from their respective community colleges, working on their associate degrees while at the same time taking courses that will seamlessly transfer to the university to complete a bachelor's degree.
The agreement with COA, signed in March 2019, allows COA students to form a relationship with ECSU while attending the community college. It gives these students a chance to become a part of the ECSU community, making their transfer to the four-year institution smooth and seamless.
In addition to the co-admission agreement, the two institutions signed a bilateral agreement to educate health and fitness majors, transferring them into ECSU's kinesiology program. Kinesiology is the study of human movement, incorporating three areas of concentration into the major: fitness and wellness, physical education and health, and exercise science.
In April 2019, both Edgecombe and Pitt Community Colleges signed agreements with ECSU to allow criminal justice, business administration, and birth-to-kindergarten education students to be admitted to the university and community colleges simultaneously, and then move to the university upon the completion of their associate degree. While both the criminal justice and business administration programs include an online degree completion component, birth-to-kindergarten students attend classes on campus.
Working with North Carolina community colleges gives students a greater opportunity to complete a four-year degree at ECSU. ECSU, as part of the NC Promise Tuition Program, is able to offer these students a quality education at an affordable tuition.
ECSU has experienced the highest enrollment since the fall 2014 semester. According to the fall 2020 enrollment census, released Monday, Aug. 24, total enrollment is 2,002, a 13 percent increase over fall 2019's 1,773 students.
---