Grant from Dominion Foundation funds energy conservation program
Posted On October 9, 2013
---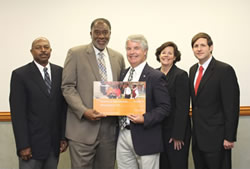 Kesha Williams
October 09, 2013
Home Energy Conservation and Education Project
Every resident can benefit from an energy conservation plan. These plans not only save residents money but help residents maintain comfortable temperatures in the home. Thanks to a grant from Dominion Power Foundation, Elizabeth City State University students will soon take on a new project to assist area residents. The Community Development Program at ECSU is beginning a Home Energy Conservation and Education program thanks to a grant from Dominion North Carolina Power and the Dominion Foundation.
Approximately 25 students will participate in a series of energy conservation workshops. Once properly trained, the students will relay their knowledge to residents in low-income, rural households. Students will conduct home visits to show residents how they can conserve energy and reduce their utility costs. The students will assist residents with energy audits, minor weatherization tasks and organize and conducting energy conservation workshops. Key topics of discussion follow:
Insulation
Thermostat settings and programming
Lighting schedules/habits efficiency lighting
Caulking
Furnace filter replacement schedule
Energy Star rated appliances
Reading and understanding an electric bill
Comparing pre-and post-utility bills to determine cost savings after occupant behavioral changes and home structural changes have taken place
According to Morris Autry, director of the Community Development Program, this project will serve 75 to 100 households. The energy conservation project is scheduled to begin in late October and conclude within 9 months.
&quotThe Community Development Program has been helping area residents learn about energy conservation for years. We are proud to involve students this time who can relay their knowledge,&quot Autry said. &quotI am very pleased to announce a $15,000 grant from Dominion North Carolina Power and the Dominion Foundation which funds our energy conservation program. Without their support, we couldn't offer this service to residents.&quot
Autry applied for the Dominion Foundation Higher Educational Partnership grant earlier this year and recently welcomed representatives to campus for the check presentation.
Dominion is one of the nation's largest producers and transporters of energy, with a portfolio of approximately 23,500 megawatts of generation, 11,000 miles of natural gas transmission, gathering and storage pipeline and 6,400 miles of electric transmission lines. Through the Dominion Foundation, the agency contributes more than $20 million annually to non-profit organizations and schools in the states where they operate or the locations where they have significant facilities or business interests. Foundation grants are funded by shareholder dollars and are not borne by customers. Grants are made in four focus areas: human needs, environmental stewardship, education and community vitality.
The Home Energy Conservation and Education program was developed to complement the Community Development Program's other housing related activities, including home repair services, housing counseling, and homebuyer education. The Community Development Program, which began in 1988, primarily provides services to residents of Pasquotank, Perquimans, Chowan, Currituck, Camden, and Gates counties.
---