Governor's Hometown Strong Initiative Puts Spotlight on ECSU Aviation Program
Posted On September 26, 2018
---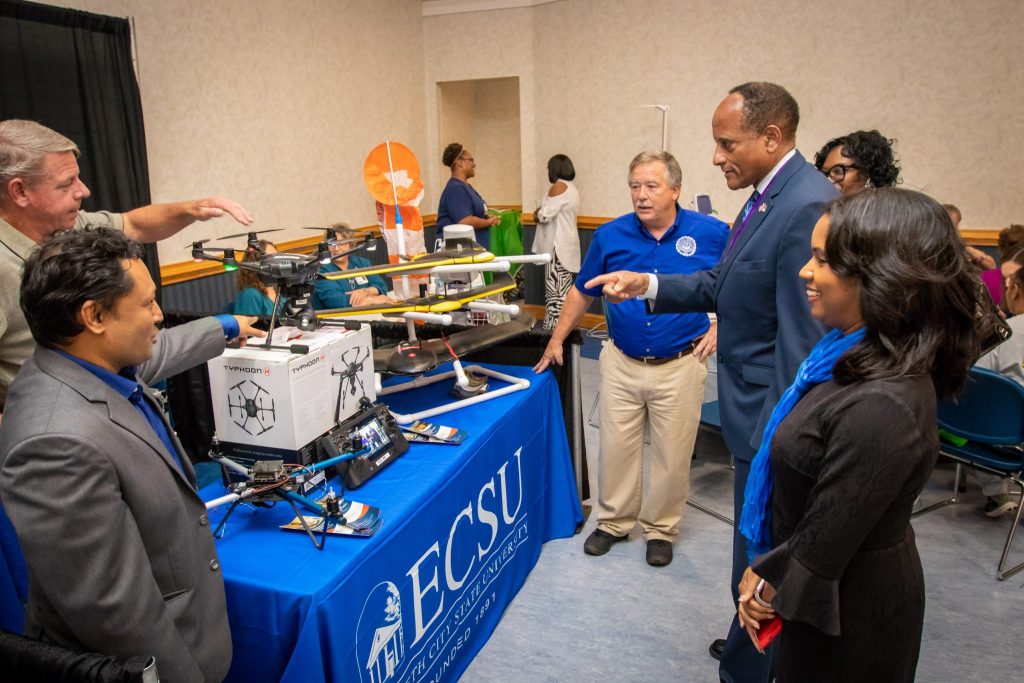 Left to right: ECSU drone lab technician Aaron Bechiom, aviation program director Dr. Kuldeep Rawat, Interim Chancellor Karrie Dixon, Dept. of Military and Veterans Affairs Sec. Larry, Hall, and aviation professor Elton Stone discuss drone technology during the Elizabeth City Area Chamber of Commerce Business Expo Tuesday, Sept. 25.
North Carolina Secretary of the Department of Military and Veterans Affairs Larry Hall and Elizabeth City State University Interim Chancellor Karrie Dixon led the charge for Hometown Strong Tuesday, Sept. 26, celebrating the university's efforts to educate and prepare future leaders in this rural corner of the state.
Hometown Strong is an initiative developed by North Carolina Gov. Roy Cooper to bolster the economic development and viability of the rural counties across the state. Six pilot counties, including Pasquotank, have been chosen for this initiative. Pasquotank County Commission Chairman Cecil Perry worked with the governor's office to identify three priority areas for the region, and ECSU's up and coming drone aviation degree program was one.
"We are here because the governor wants to help all of North Carolina," said Sec. Hall during a morning forum, presented to ECSU and surrounding community members. "Hometown Strong is to make sure solutions are in place so we can ensure a better quality of life for everyone."
Part of the initiative is to develop a workforce for the region that will help grow the rural economy. With the introduction of ECSU's drone program, slated to launch in the fall of 2019, the potential for jobs development provides the region with a positive step forward, realizing that this burgeoning industry touches on hundreds of potential career pathways, according to aviation program director, Dr. Kuldeep Rawat.
And that fact is what brought Sec. Hall to campus. Sec. Hall met with Chancellor Dixon to discuss the program both personally and on the air with the Raleigh-based morning radio show, The Sports Shop, hosted by Kevin "KMAC" McClendon and Erroll Reese, Tuesday.
Both Sec. Hall and Chancellor Dixon talked about how Hometown Strong has the potential to change rural economies, but more specifically how the ECSU aviation program is developing a future workforce for an industry that is currently looking for men and women to fill its ranks as fixed-wing and drone pilots, avionics experts, and air traffic controllers.
Where Sec. Hall's office comes into the fold specifically is through the education of military veterans and active military personnel. ECSU is currently educating both and was recently named 2018 Best of the Best Veteran Friendly Schools by Veterans Magazine.
"We have lots of veterans in North Carolina and this initiative helps carry a vision of what your community has in order to improve the quality of life," said Sec. Hall.
Sec. Hall and his staff, led by Chancellor Dixon, toured the annual Elizabeth City Area Chamber of Commerce Business Expo, held at the K.E. White Center. There, Sec. Hall was able to speak with community business owners and representatives, and discuss the potential for development in the region.
He also toured the ECSU aviation program laboratories, featuring a talk by Dr. Rawat on the significance of drone technology, the degree program and the expansion of an educated workforce.
Sec. Hall said his aim is to help ECSU grow the program, and help bring more students to campus. The effort is not only a win for ECSU, but also for the state of North Carolina.
The ECSU drone degree program was recently approved by the University of North Carolina System Board of Governors. Students enrolled in the new program will focus on the latest technological trends, working with both academic theory and hands-on training.
---