Gill and Tucker earn All-CIAA awards
Posted On February 28, 2011
---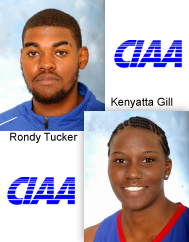 April Emory
February 28, 2011
Two student athletes from ECSU, Kenyatta Gill and Rondy Tucker, will cap outstanding seasons with awards when the 2011 All-CIAA Basketball Teams are recognized during the CIAA Basketball Tournament in Charlotte, N.C.
ECSU Lady Viking Kenyatta Gill, a senior forward, earned All-Conference honors for the second consecutive season. In a repeat of her junior season, Gill was voted to the All-CIAA Women's Team after leading ECSU in scoring (13.3) and rebounding (6.8). Starting in 25 of 27 games, she led the Lady Vikings in scoring 14 times. She registered double figures 22 times this year, posting a season high 25 points vs. Saint Augustine's on January 20th at the RL Vaughan Center.
Gill, along with the other All-CIAA Women's honorees, will be honored at the Tipoff Awards Ceremony on Sunday, February 27th.
Tucker, a junior forward, led ECSU in scoring and rebounding at 12.0 points and 8.4 boards per contest. He tallied double figures in 15 games, 14 in which as the Vikings' leading scorer. In the CIAA he ranks second in field goal percentage and third in rebounding and registered eight double-doubles this year.
The 2011 All-CIAA Men's Basketball Team will be honored at the Tipoff Awards Ceremony on Tuesday, March 1, 2011 in Charlotte, NC. For more information on ECSU Athletics, visit www.ecsuvikings.com.
For more information on the tournament and a slew of activities and events, see the following webpage: http://www.ciaatournament.org/.
---