George Bright Ready to Build a 'Championship Culture'
Posted On August 13, 2018
---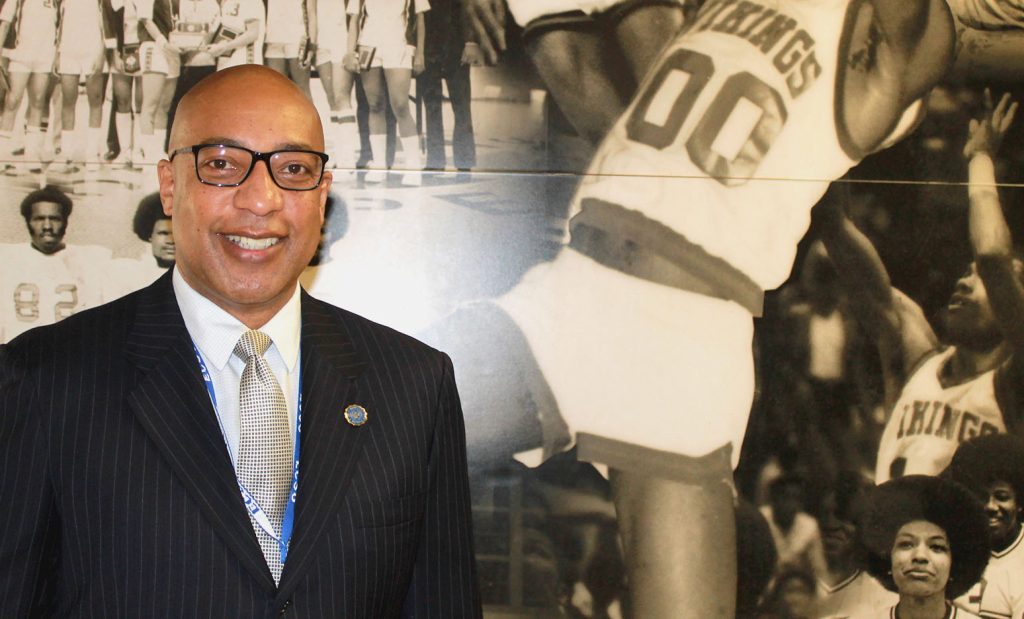 George L. Bright, ECSU's new athletics director, has set out to build a "championship culture."
George L. Bright is cultivating a "championship culture." That's the focus of Elizabeth City State University's new athletic director, but there is so much more to that culture than winning a game.
It's also about character and integrity.
Bright says he has three simple goals. He wants to ensure that student athletes have a high level academic and athletic experience; to manage the operations of the athletics department efficiently; and to win.
"If we do these correctly, and help them (student-athletes) with a high standard of character and integrity, the wins will come," says Bright.
Bright's arrival on the ECSU campus represents the most recent change in Viking athletics leadership. He was preceded by head football coach Anthony Jones and both men see their roles as an opportunity to not only create a winning program, but also cultivate strong, future leaders through the discipline and teamwork that goes into a program.
"The coach will talk about educating men and he is doing a great job of that," said Bright. "This campus is very fortunate to have that level of talent (in Jones) here."
Bright didn't set out to become an athletics director. When he began his college career, Bright had music on his mind when he declared it as his major. But he did have an affinity for sports.
While Bright didn't play for a college team, he did begin working in the athletics ticket office, which led him to the administrative side of athletics, becoming the executive director of South Carolina State's athletics booster club.
With experience in athletics management and fundraising under his belt, and an opportunity to return to the region where he grew up, eastern Pennsylvania, Bright would eventually spend 22 years at Lafayette College as both the assistant athletics director and associate athletics director.
Bright was most recently Director of Athletics and Recreation at Moravian College, in Bethlehem, Pennsylvania from 2015 to 2017. As director there, he developed, implemented, and supervised the administration of National Collegiate Athletic Association (NCAA) compliance, strategic planning, fundraising, and all aspects of the athletic program.
As director here, Bright knows he's taking on a storied and legacy-filled program, but he also knows there is work to be done to build an even stronger athletics department.
Before the day of his interview for the athletics director position, Bright says he came to Elizabeth City to look around the campus. Anonymously, he strolled across ECSU and gained an appreciation for the special place it is, and for the "warm" people he would meet that day.
"I am thankful for the warm embrace," he says. "I am looking forward to working with our alums. I am thankful for our legends like Claudie Mackey. But I am also thankful the people I have met while on campus."
Bright's experience so far has given him the confidence that he's in the right place, at the right time of his career. He says at this point in his career he can be picky about where he lands, and ECSU is the place he wants to be; the place where he wants to build that "championship culture."
"But it's not an overnight deal. It takes work."
---