Gary Brown has a Passion for Student Affairs
---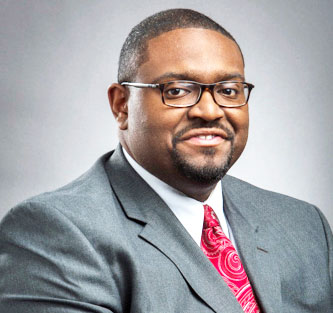 Gary Brown is already at work engaging Elizabeth City State University students. Since his first day, July 9, the new Vice Chancellor of Student Affairs has been zeroing in on what it will take to make certain the student experience is everything the campus's new and returning Vikings hope it can be.
"When students come to college they're not just coming to the institution, but also the community," said Brown in a recent interview.
Brown is coming to ECSU from North Carolina Central University where he served as Interim Vice Chancellor for the Division of Student Affairs. He began working with Central's Division of Student Affairs in 2007 as assistant dean of students and coordinator of Greek Affairs. Over the years, he served in a number of Student Affairs positions, including dean of students, director of Student Rights and Responsibilities, and assistant director of Student Support Services.
But now Brown is a Viking and he's hit the campus running, preparing for the start of the 2018-2019 year.
While Brown has a number of plans and ideas, his most immediate concern is seeing through the completion of the bowling alley renovation, while planning for the arrival of new freshmen. And in some ways, both subjects go hand-in-hand.
The bowling alley renovation provides students with a place to congregate, recreate, and relax.
"It's a great place for students to gather and socialize," he says.
He hopes to have the doors open by Aug. 10, when new students arrive on campus in advance of the Aug. 14 start of the new semester. Aug. 10 is also the launch of the new Viking Days, a way to welcome new students to ECSU.
"Get our first year students comfortable with the campus," he said.
Brown says it's important for students to have balance in their campus life. They are, he says, here for the academics, "but they need some recreation as well."
What Brown and the Department of Student Affairs do to make life better for students, also works to retain students, and ultimately see them through graduation. To be successful, Brown says one thing he must do is to personally engage with students.
"So I can understand what is going on in their lives and make their experience better," he said.
Brown's department is also focused on student achievement through programs outside the traditional classroom. Whether those programs are cultural or recreational, they serve to give the students a broader and stronger experience while attending university.
Brown began his academic life as a student with an eye on being a high school counselor. But as an undergraduate at North Carolina Central University, the Dean of Students suggested that working at the college level could impact more lives. From there he took his bachelor's degree in history, earned a master's in education, and his currently working on his doctorate in leadership studies at North Carolina A&T.
Along the way he earned a Master of Divinity degree from Shaw University and pastors a church part time. But his full time work, his passion, is right here, at ECSU.
"I just fell in love with the field," he said of his work in student affairs.
---