Gallop teaches students to communicate through dance
Posted On November 16, 2015
---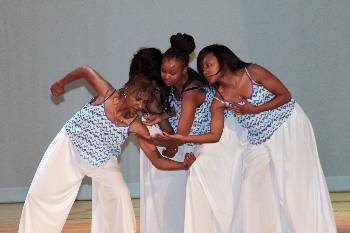 By Kesha Williams
If you ask Dr. Faye Gallop to recommend a winter fitness plan, don't expect a rigid schedule of visits to the gym.
Gallop is more likely to recommend a series of dance classes than hours of weight lifting and treadmill trotting. That's been her advice for ECSU students the last three years she served the university as a physical education instructor. Her fitness, dance and aquatics classes are effective methods of helping students reach their fitness goals. According to Gallop, students are often surprised by their progress.
"I teach students who have no dance class background and some who had modern dance or other dance classes before. Everyone can learn and improve in some way."
"I tell my students dance is a means of relaying emotions. It's expressive. You can use facial expressions, sways, leaps, jumps and the technique that may be associated with particular forms of dance such as ballet, modern dance, liturgical or even hip hop dance," Gallop said.
"As a dancer or director, you can incorporate speech, noise, props, music or even silence to assist you in the development of a storyline or a theme to your performance. By the end of the semester, most students are amazed by their performance on stage."
When you study dance with Dr. Gallop, the syllabus isn't limited to sessions where you watch films, write critiques and complete dance routines. Every student is expected to display their choreography skills during midterm and end-of-term performances. Some past and current dance class students also perform at assorted campus events.
"In the past, we've danced during American and International Education Week in November. We've danced for campus retirement celebrations and at events coordinated by local churches," Gallop said.
Because exposure is crucial to student development, Gallop encourages students to attend performances by professional dance companies at regional and university performance halls. Gallop realizes dance instruction is one of many ways ECSU students are taught to develop communication skills. She favors dance for its life-long benefits.
"Dance routines can be simple or complex. You can enjoy them over the stages of your life. Dance is therapy for me and it can be the same for our students," Gallop said.
---