G.R. Little Library Opens Temporary Home in Gilchrist Complex
Posted On August 19, 2019
---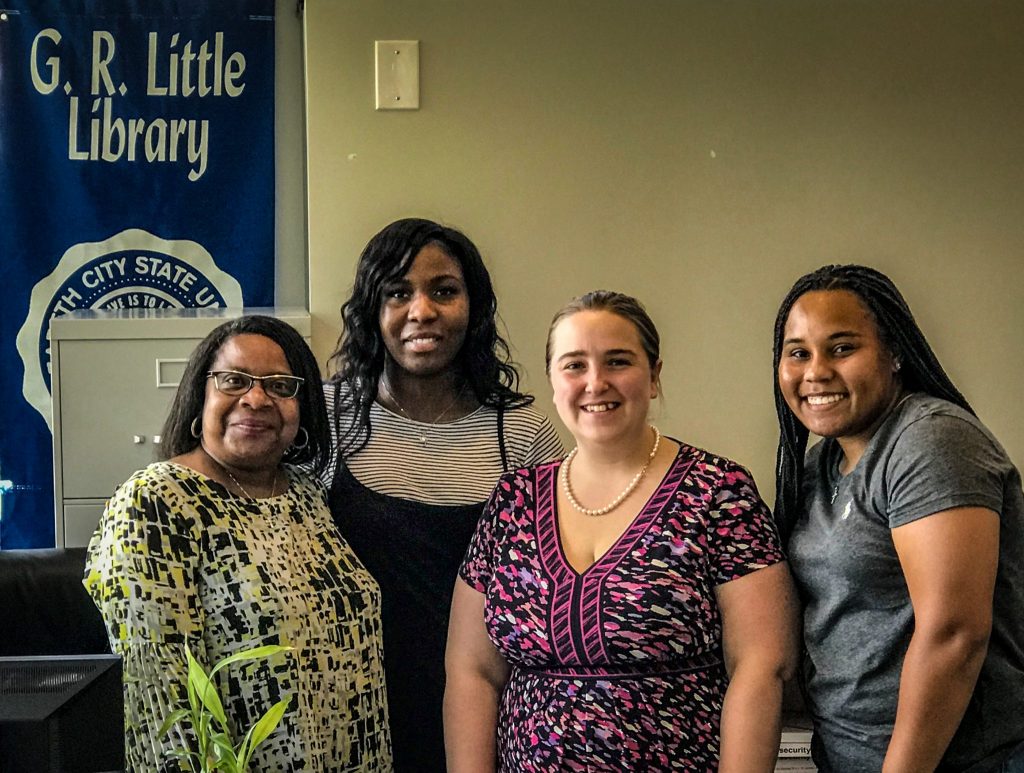 ECSU's director of library services, Dr. Juanita Midgette Spence, left, and librarian Mary Jordan, second from right, stand with students Daja Brown, second from left, and Alexis Blackwell, right, inside the temporary home of the G.R. Little Library in the Gilchrist Complex Monday, Aug. 19.
Elizabeth City State University's G.R. Little Library has a new home, for now. While repairs are being made to the library building over the course of the next year, the facility will be housed at the Gilchrist Complex, on the second floor, according to ECSU director of library services, Dr. Juanita Midgette Spence.
"Students can still come in here and work just like in the main library, only smaller," said Dr. Spence.
As students attended an open house Monday, Aug. 19, to acquaint themselves with the new space, Dr. Spence explained to each one how it will operate, and what is available to them. All of the services, she emphasized, will remain available to students, faculty, and staff.
"All of our services will be here," she said of the Gilchrist space.
While the temporary library space is smaller than the G.R. Little building, its effectiveness will not be diminished, said Dr. Spence. The space includes numerous book titles, DVDs, computers, printers, and regular hours. Additional computer space is also available in room 143 of Johnson Hall, she said.
The new space will also include reference library services and regular hours. Dr. Spence says the library will be open Monday through Thursday, 7:30 a.m. to 10 p.m., Fridays 7:30 a.m. to 5 p.m., Saturdays 11 a.m. to 4 p.m., and Sundays, 2 p.m. to 10 p.m.
Plans for repairs at G.R. Little have been in the works for some time. However, plans to eventually build a new, state-of-the-art library on campus have also caused university officials to reduce spending on the current facility, focusing on needed repairs instead of a complete renovation.
The university's vice chancellor for finance, Josh Lassiter, told the ECSU Board of Trustees during their June meeting that $4.5 million was slated for the renovation of the G.R. Little Library Building. But Lassiter, in his presentation to the board, said that ECSU would likely receive funding from the state for a new, state-of-the-art library building. Funding for a new campus library means that ECSU can reduce the amount earmarked for G.R. Little, and increase spending on Moore Hall, one of the campus's most historic buildings.
With a new library on campus, the G. R. Little Library would eventually be available for other uses. That means that work on the current library building is focusing on repairs, cutting its cost.
Lassiter told ECSU Trustees that subsequently, the university plans spend to $3.9 million for repairs on G.R. Little. Once repairs to the G.R. Little building are complete, the library will return to the space.
---