G. R. Little Library is one of campus' best recycling sites
---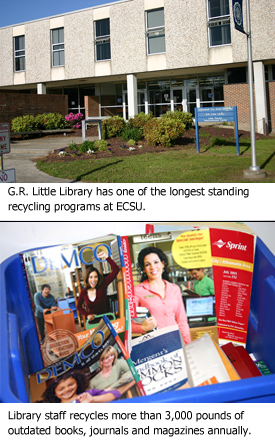 Kesha Williams
April 18, 2011
Recycling efforts at ECSU are improving. The effort first began in 1990, but the recycling collection expanded to approximately 95% of campus buildings by 2010. Each building is equipped with at least one container for paper and one container for plastic bottles and aluminum cans. Since the implementation last summer, an estimated 1,700 pounds of paper is recycled in administrative and auxiliary buildings on a weekly basis. In addition, approximately 100 pounds of plastic bottles are collected in those buildings.
One of the longest standing recycling programs on campus is located in G.R. Little Library. The library staff has been recycling magazines and books since 1990. The library staff recycles well over 3,000 pounds of outdated books, journals, and magazines on an annual basis. Newspaper is recycled monthly, and office paper from the copiers is collected weekly. In addition, they were one of the first campus staff areas to adopt plastic bottle recycling. According to Liz Linney, university program specialist, the number of bottles recycled at the library is greater per person than any area on campus.&ampnbsp Linney said water bottles outweigh all other beverage containers collected at the library.&quot
Another noteworthy item that is collected is cardboard, which is recycled instead of placed in the trash. ECSU actively participates with Pasquotank County's Commercial Recycling Program including cardboard collections in a 20-yard dumpster provided by the county.
&quotWe track cardboard recycling collections on an annual basis. The quantity of cardboard recycled nearly doubled in fiscal year 2009-10 over previous years,&quot according to Linney. Everyone on campus is encouraged to recycle all cardboard items instead of putting it in the trash. Linney said universities across the nation will reflect on their recycling efforts as they prepare for Earth Day on April 22.
Liz Linney, university program specialist, contributed to this story.
---