Fraternity collaboration brings male blood donors forward
Posted On February 21, 2011
---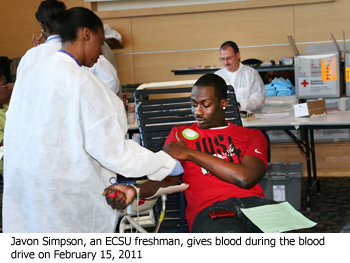 Kesha Williams
February 21, 2011
The brothers of Alpha Phi Alpha Fraternity, Inc. and Kappa Alpha Psi Fraternity, Inc. collaborated with the Mid-Atlantic Regional Blood Services of the American Red Cross in Greenville to host a six-hour blood drive on February 15, 2011 in the Ridley Student Complex.
Camron Gorham, a senior at Elizabeth City State University and member of Alpha Phi Alpha, said the joint project positively showcased black men working together on an important task that impacts thousands of people in the region. Late in the afternoon, it was obvious their efforts were successful in bringing more males than usual to the blood donation chairs.
Members of both fraternities sat at welcome stations and encouraged passers-by to give blood. Facing their fears of needles, many people accepted the challenge and then waited patiently to roll up their sleeves for the process to begin.
Maddy Vandelinde, a supervising team leader for the Red Cross staff, said many first-time donors participated on Wednesday. The fraternities' brand of peer mentoring is just what is needed, he explained. Prospective donors must remember that three lives can be saved from one pint of donated blood, he said.
&quotWe're glad to see the young donors at our tables,&quot Vandelinde said. &quotOlder donors have given blood for years, but that donor pool is shrinking as they age and now need blood donations due to health problems and necessary surgeries.&quot
He commended the donors at the ECSU blood drive. &quotWhen donors at schools and universities give blood, it really helps us. Because of the sluggish economy and the rising cost of gas, some area donors may no longer be able to drive out just to donate blood.&quot
Javon Simpson and Steven Wells, both freshmen, made their first donations as ECSU students. It was practically painless and easy, they said, and both plan to donate again.
Lovell Pendleton acknowledged that someone talked him into donating blood, but said he was glad for the pitch. &quotIt was my first time giving blood,&quot he said. &quotBut now I realize how easy and quick it is. It's really a good idea to stop and donate.&quot
---