Franck Yao Named ECSU's Newman Civic Fellow
---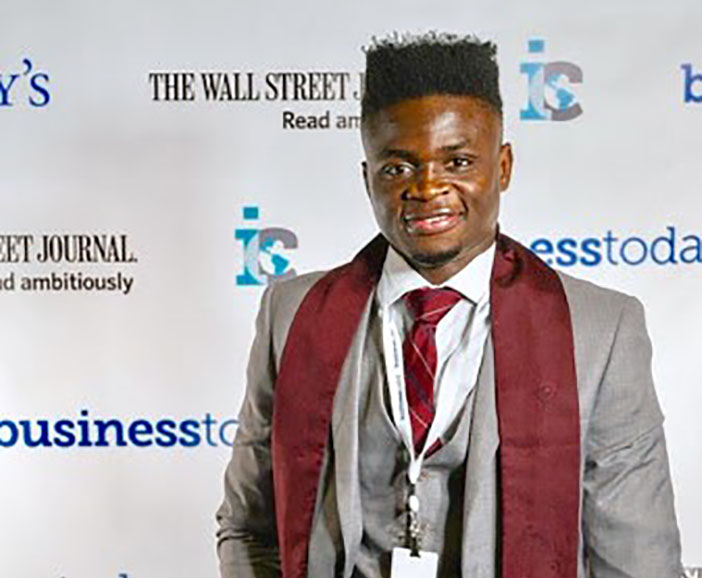 Elizabeth City State University sophomore Franck Yao is still busy planning his future, and working on changing the world. That fact has led him to be named ECSU's 2019 Newman Civic Fellow.
After leaving the African continent to gain an education in the United States – his mother and grandmother live here – he was named a United Nations Youth Ambassador. Yao parlayed that honor into work on campus, including other ECSU students as delegates.
According to ECSU's director of community engagement, Russ Haddad, Chancellor Karrie Dixon recognized Yao's work and nominated him to the Newman Civic Fellowship.
Haddad said ECSU's Newman Civic Fellow will work on civic engagement projects on campus. He will also have opportunities to grow and learn professional, according to a statement issued by the president of Campus Contact, Dr. Andrew Seligsohn. Campus Contact the organization responsible to bringing university campuses together to engage in civic projects.
"The Newman Civic Fellowship supports the next generation of public problem solvers in their personal, professional, and civic growth," said Dr. Seligsohn in his statement.
The Newman Civic Fellowship was created in honor of Frank Newman, one of Campus Compact's founders and an advocate for the role of higher education in preparing students for active and engaged citizenship.
Aside from working on the ECSU campus with civic engagement projects, Yao will have the opportunity to benefit from "exclusive virtual and in-person learning opportunities during the 2019-2020 academic year." That includes an opportunity to attend the Newman Civic Fellowship national conference in Boston next fall.
During an interview last fall, Yao said his goal is to bring value to ECSU. This current fellowship and his membership to the UN certainly back up his goal.
Yao was chosen to be a member of the assembly through a program developed by the Obama Foundation, identifying 1,000 young Africans to participate in global solutions. That was last March and since then he has completed a fellowship in Silicon Valley with the likes of Google, You Tube, and Twitter.
Yao's career goal is to learn more and more about artificial intelligence and combine it with economics. He hopes to build a bridge between the two disciplines in an effort, "to create more opportunity for people to have opportunity for work."
"Use AI to create sustainable opportunity," he said.
It's all part of Yao's efforts to change the world, and it appears with this latest fellowship, he is right on schedule.
---