Franck Yao Named as a Forbes Under 30 Overachiever
Posted On August 21, 2019
---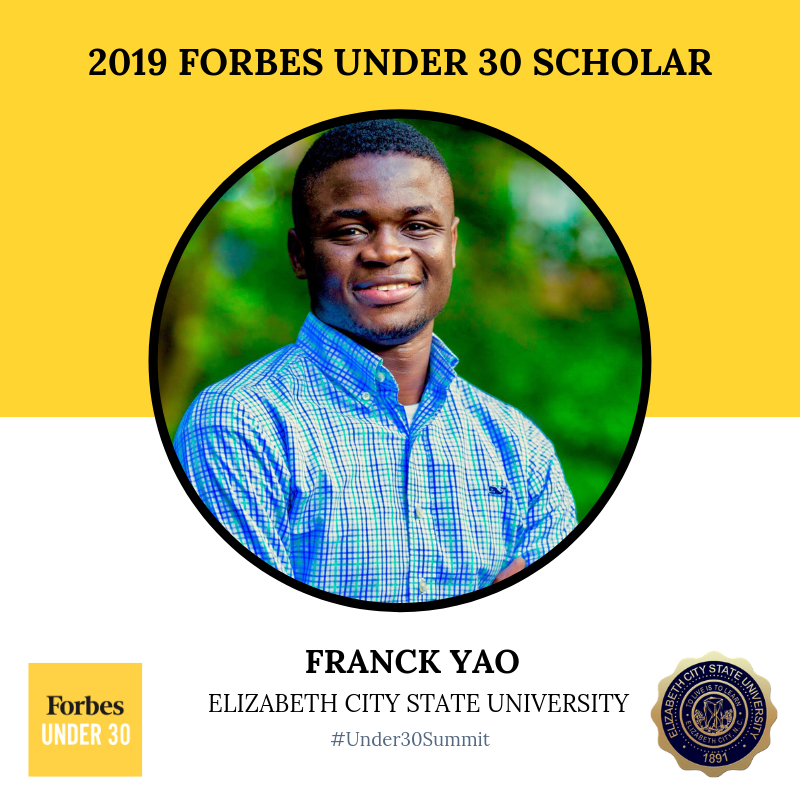 Elizabeth City State University junior Franck Yao has been named as a Forbes Under 30 Overachiever. Yao, a native of the Ivory Coast, is a United Nations Youth Ambassador, and a 2019 Newman Civic Fellow.
"I have recently been blessed to be selected as one of the 1,000 Forbes Under 30 Overachievers of the year and will soon fly to Detroit to represent ECSU at the Forbes Under 30 Summit," said Yao.
The Forbes Under 30 Summit brings the world's best young leaders, founders, and creators together for "a life-changing four days of connecting, learning, teaching, and building," according to Yao.
"As an Under 30 scholar, I will have the ability to access investors, entrepreneurs, celebrities, musicians, fashion designers, sports stars, cultural icons, world-renowned chefs, educators, political leaders, and business icons who represent the entrepreneurial spirit of the Forbes list," said Yao.
In late October, Yao will fly to Detroit where he will spend four days at the summit. He will meet with notable leaders such as tennis champion Serena Williams, the chief marketing officers for Tinder, Jenny Campbell, executive vice president and chief marketing and digital officer for Target, Rick Gomez, and many more.
Yao's achievements as a student have been met with accolades and honors since he arrived in the United States. As a UN Youth Ambassador, and a Newman Civic Fellow, he has become involved with a number of key people, including meeting with Forbes founder, Steve Forbes.
After leaving the African continent to gain an education in the United States – his mother and grandmother live here – he was named a United Nations Youth Ambassador. Yao parlayed that honor into work on campus, including other ECSU students as delegates.
Chancellor Karrie Dixon recognized Yao's work and nominated him to the Newman Civic Fellowship.
As ECSU's Newman Civic Fellow, Yao will work on civic engagement projects on campus.
The Newman Civic Fellowship was created in honor of Frank Newman, one of Campus Compact's founders and an advocate for the role of higher education in preparing students for active and engaged citizenship.
Aside from working on the ECSU campus with civic engagement projects, Yao will have the opportunity to benefit from "exclusive virtual and in-person learning opportunities during the 2019-2020 academic year." That includes an opportunity to attend the Newman Civic Fellowship national conference in Boston this fall.
During an interview last year, Yao said his goal is to bring value to ECSU. His current Forbes honor, his fellowship and his membership to the UN certainly back up his goal.
Yao was chosen to be a member of the UN assembly through a program developed by the Obama Foundation, identifying 1,000 young Africans to participate in global solutions. That was in March 2017, and since then he has completed a fellowship in Silicon Valley with the likes of Google, You Tube, and Twitter.
Yao's career goal is to learn more and more about artificial intelligence and combine it with economics. He hopes to build a bridge between the two disciplines in an effort, "to create more opportunity for people to have opportunity for work."
"Use AI to create sustainable opportunity," he said.
It's all part of Yao's expressed efforts to change the world, and it appears he is right on track.
---