Franck Yao is Out to Change the World
Posted On November 30, 2018
---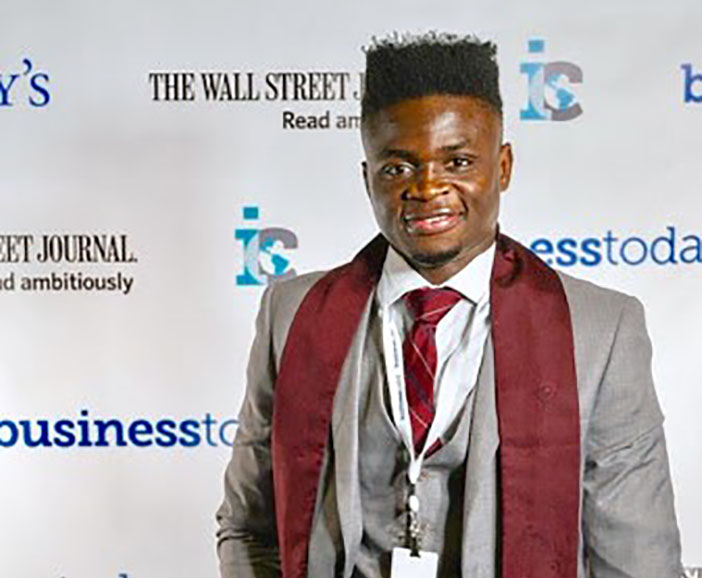 Franck Yao is adjusting to life in Northeastern North Carolina. It's a far cry from California and his native Ivory Coast, on the continent of Africa. And while the business major is adjusting to his new life as an Elizabeth City State University sophomore, Yao is planning his future, and working on changing the world.
It's almost a cliché to say that someone is out to change the world, but in Yao's case, it is a statement that applies well when you consider how much the young African native has accomplished well before he's even earned his bachelor's degree.
But Yao isn't bragging about his accomplishments as much as he is stating fact when speaks of the United Nations and billionaire Steve Forbes. He is a United Nations Youth Ambassador whose goals are to address weighty global issues such a clean water, poverty, hunger, and human rights.
"I am a proud African and my goal is to bring sustainable development to my people in Africa," says Yao, who will one day be working in the field of artificial intelligence as a means to this end.
Yao has been in the United States three years. His mother and grandmother live in Greensboro, North Carolina, but he began his journey in California. As a student at Skyline College – a community college in San Bruno, California – he earned an associate's degree in economics, and then he transferred to ECSU.
Yao says he wanted to attend an HBCU so he applied to multiple universities. He chose ECSU after the enrollment team impressed him, so with a full scholarship he became a Viking.
"I felt like coming here wouldn't be only economical, but also good community relations experience to create something good," he said.
Although he has set out to create something good, it's fair to say that Yao brought a lot of that good with him when he arrived last August. He had been nominated and then named to the UN Youth Assembly through his work as a student in California, and now that is having a ripple effect on campus here.
Yao says he wants to bring value to ECSU, so he's currently working with nine fellow students, preparing them for the February 2019 UN Youth Assembly. They will, he says, all be cohorts at the assembly, working on a variety of global issues.
Those students joining Yao in February are: Khya Kornegay, Emmanuel Butts, Diamond Vann, Brenna Daniel, Erica  Acheampomaa, Sanda Oo, Pierre Twaibu, Diana Santos, and Matthew Jarvis.
Yao was chosen to be a member of the assembly through a program developed by the Obama Foundation, identifying 1,000 young Africans to participate in global solutions. That was last March and since then he has completed a fellowship in Silicon Valley with the likes of Google, You Tube, and Twitter.
Last month he attended the Business Today Network conference in New York City. It was there that he met and worked with billionaire Steve Forbes and others over a four-day period.
"To learn about the future of work globally, and what it will look like in the future," he said.
And it will look like, he said, a world with more digitized devices that is more reliant on artificial intelligence.
Yao's goal is to learn more and more about artificial intelligence and combine it with economics. He hopes to build a bridge between the two disciplines in an effort, "to create more opportunity for people to have opportunity for work."
"Use AI to create sustainable opportunity," he said.
One such project he has in mind was inspired when he made a trip to South Africa. A girl there is deaf and mute, a fact that inspired Yao to conceive of an artificial intelligence project that would allow her to code computer software using American Sign Language.
So at 21, Yao's life is arguably full and fulfilling. As a formal student, he has set before him a challenge to make a difference in the world, while recognizing that learning is a life-long endeavor.
It's all part of Yao's efforts to change the world, and it he seems to be on track to change it.
---