Four seniors voted to 2010 CIAA Preseason All-CIAA football squad – ECSU Picked To Finish Second in the CIAA Northern Division
---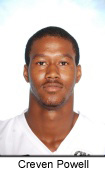 April Emory
July 27, 2010
PETERSBURG, VA- The 2010 CIAA Predicted Order of Finish and Preseason All-CIAA Team was announced at the annual Football Kick-Off Press Conference held Thursday morning at Jones Dining Hall on the campus of Virginia State University.
The Order of Finish and Preseason All-CIAA Team are voted on by the CIAA Football Coaches Association. The Vikings, who finished at 7-4 overall in 2009 and in a three-way tie in the Division (5-2), were picked to finish fourth overall out of the 13 CIAA teams and second in the CIAA North.
Four senior Vikings received preseason honors Karvin Gwaltney (tight end), Dexter Manley (wide receiver), Creven Powell (quarterback) and Malcolm Jenkins (defensive end).
Bowie State and Fayetteville State, last year's championship participants were picked to finish atop the Northern and Southern Divisions, respectively. The Broncos topped Bowie State 21-10 to win last year's football crown. The Vikings will kick off the season on August 28th at home against Johnson C. Smith University.
---