Four Named Tom Joyner Foundation Hercules Scholars
---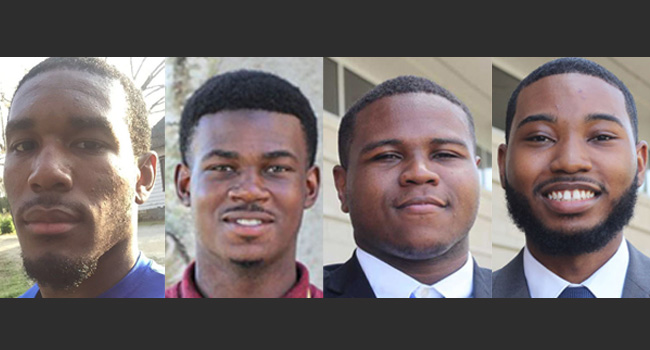 Left to right: Corey Cherry, Reginald Kelley, Chorn Poyner, and Robert Boone were each named Tom Joyner Foundation Hercules Scholars in February.
Last month Elizabeth City State University was the Tom Joyner Foundation School of the Month and four outstanding ECSU students were named Hercules Scholars, one each week. The honors, which include a $1,500 scholarship, went to Robert Boone, Corey Cherry, Reginald Kelley, and Chorn Poyner.
The students are chosen based upon their school and community involvement, and their academic achievement.
Robert Boone is a junior from Lewiston-Woodville, North Carolina, majoring in business administration with a concentration in economics and finance. He currently serves as the Student Government Association Vice President.
Last spring Boone was inducted into the Beta Gamma Sigma business honor society. He has served as a member of his sophomore class council, the student senate, the Criminal Justice Club, and the University Services Review committee.
Boone volunteers with local organizations such as Food Bank of the Albemarle and J.C. Sawyer Elementary School in Elizabeth City.
His career goal is to be a vice chancellor of student affairs or university chancellor.
Corey Cherry is a freshman from Windsor, North Carolina majoring in kinesiology. He graduated in the top 10 percent of his high school class, earning him a scholarship to ECSU during his sophomore year.
A knee injury during his senior year in high school turned Cherry's attention toward his career goal. He says he took interest in learning about how the body works, leading him to majoring in kinesiology, and a goal of becoming a physical therapist.
Cherry says he has a desire to contribute to his community through coaching, mentoring children on reading skills, volunteering at animal shelters, and speaking to high school students about the virtues of becoming involved in their communities.
Reginald Kelley is a sophomore from Camden, North Carolina, majoring in computer science and mathematics. He says his involvement in the ECSU Center of Remote Sensing Education and Research center helped him decide to pursue his major and a desire to work in the computer science field.
Kelley says once he graduates from ECSU, his plan is to pursue his masters and doctorate degrees.
Aside from pursuing a major in computer science and mathematics, Kelley is a member of the ECSU Honors Program. He also enjoys volunteering at the New Mt. Zion Church of God in Christ's food pantry.
Chorn Poyner is an Elizabeth City native majoring in business administration and accounting. The junior says his career plan is to become a certified public accountant.
Poyner's love of finance has led him to become the Student Government Association Vice President of Finance. He also serves as the chairman for the Student Finance Committee, as well as works in the Office of Student Engagement and the Office of Admissions, assisting with campus tours.
He says he was most influenced by Willie Brown, Ph.D., who was a mentor and also recruited him to attend ECSU.
---