Four ECSU Alumni Receive 2021 Chancellor's Legacy Award
Posted On February 12, 2021
---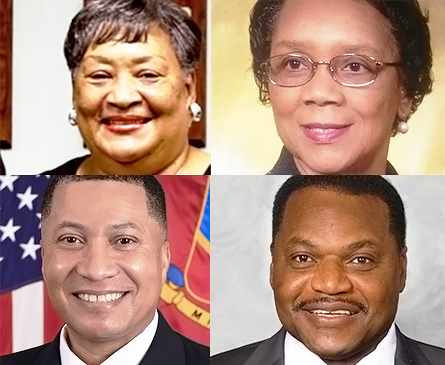 The 2021 Chancellor's Legacy Award honorees are, clockwise, left to right, Dr. Laura W. Buffaloe, Mary L. Cates, Col. Richard A. Harrison, and Larry Johnson.
On Saturday, March 13, during the Elizabeth City State University Founders Day Gala XIV, four people and the 1971 CIAA championship football team will be honored with the Chancellor's Legacy Award. 
This year's gala is entirely virtual, and each honoree will give a pre-recorded acceptance speech to be played during the virtual event.
The Chancellor's Legacy Award honorees are: Mary L. Cates, Class of 1961; Dr. Laura Walton Buffaloe, Class of 1965; Col. Richard A. Harrison, Class of 1994; and Larry Johnson, Class of 1973, along with the ECSU 1971-72 CIAA Championship Football Team that will be recognized in remembrance of this historic win.
Dr. Laura Walton Buffaloe
An Elizabeth City native, Dr. Buffaloe graduated from ECSU in 1965 with a business education degree. She went on to earn a master's degree from North Carolina Central University, a CAGS degree and doctorate in education from Virginia Polytechnic Institute and State University.
She began her career as an educator as an 8thgrade teacher and reading specialist in Elizabeth City before going on to teach business at Gumberry High School in Northampton County, North Carolina.
She eventually went on to become a college instructor at Halifax Community College. She would spend the rest of her career teaching in the North Carolina Community College System before retiring after 40 years.
In 2006, Dr. Buffaloe was appointed to the University of North Carolina System Board of Governors. She served on the board until 2013, working on numerous committees.
Throughout her career, Dr. Buffaloe has served on numerous boards and has been the recipient of numerous awards and honors for her work as an educator and for service to her community and state.
Mary L. Cates 
Ms. Cates received her bachelor's degree in elementary education from ECSU in 1961. She went on to earn a reading specialist certification from East Carolina University.
Ms. Cates was an educator for 32 years. She taught 3rd, 5th, and 8thgrade language arts.
After her retirement, Ms. Cates opened an in-home daycare center for children. She continues to operate the daycare today.
Her passion for ECSU has led Ms. Cates' work for her alma mater and future students over the years. Over the past 15 years, she served as the chairperson for the ECSU National Alumni Association sponsored homecoming activities, aiding in raising nearly $400,000 for student scholarships.
She served as the president of the Eva J. Lewis Alumni Chapter in Greenville, North Carolina, and the secretary and second vice president for the National Alumni Association. For her service to ECSU, Ms. Cates received the National Association for Equal Opportunity in Higher Education Award in 2003.
Col. Richard Harrison
A North Carolina native, Col. Harrison, U.S. Army, is a 1994 ECSU graduate. While at ECSU, he earned a bachelor's degree in business administration before being commissioned as an Army officer.
Col. Harrison's first duty station was Fort Campbell, Kentucky where he served as an Avenger/Stinger Platoon Leader and Battery Executive Officer. During his military career, Col. Harrison earned a Master of Arts in Policy Management from Georgetown University, and a Master of Science in Strategic Military Studies from the United States Army War College.
After numerous commands, Col. Harrison was assigned to the Joint Staff, Pentagon. During his time on the Joint Staff, Col. Harrison served as the Division Chief for the Protection Division, Joint Staff J-3 and later as the Executive Assistant/Executive Officer to the Joint Staff J-3 from June 2017 to June 2019. He assumed responsibility as the 44th Commandant of the U.S. Army Air Defense Artillery School and Chief of Air Defense Artillery at Fort Sill, Oklahoma, on Aug. 20, 2020.
His numerous awards and decorations include the Defense Superior Service Medal, the Legion of Merit Medal, the Bronze Star Medal, the Defense Meritorious Service Medal, the Meritorious Service Medal, the Army Commendation Medal, the Joint Service Achievement Medal, the Army Achievement Medal, the National Defense Service Medal with one bronze star, the Iraqi Campaign Medal, the Global War on Terrorism Service Ribbon, the Korean Service Ribbon, the Overseas Service Ribbon, the Office of the Secretary of Defense Identification Badge, the Joint Staff Identification Badge, the Army Staff Identification Badge, the Parachutist Badge, the Air Assault Badge, and German and Uruguayan Airborne Wings.
Larry Johnson, Sr. 
Considered the best defensive line coach in college football, Mr. Johnson is a 1973 graduate of ECSU. He earned his bachelor's degree in health and physical education.
After 20 years of high school coaching in Maryland and Virginia, Mr. Johnson went on to coach for 18 years at Penn State University. He joined The Ohio State University's staff in 2014 as a defensive line coach before being promoted to associate head coach in 2019.
In 2019, he coached and developed Chase Young into a Heisman Trophy finalist – just the 9th defensive player ever named a finalist – and to unanimous first-team All-America status while being named a finalist for five other major national awards. Mr. Johnson has coached more Big Ten defensive players of the year or linemen of the year than any programin the Big Ten over the last 23 years.
In college, Mr. Johnson was an NAIA All-American and all-conference player at ECSU. He was inducted into the school's Sports Hall of Fame in 1990. He played one year in the NFL, with the Washington Redskins in 1973.
He is a member of the 1971 season CIAA championship Viking lineup. ECSU's championship team is also being celebrated during the Chancellor's Legacy Awards.
---