Four alumni inducted into ECSU Sports Hall of Fame
Posted On October 30, 2012
---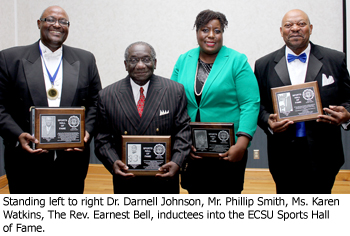 Kesha Williams
October 30, 2012 Four alumni were recently inducted into the ECSU Sports Hall of Fame at the 33rd annual induction banquet:
Ms. Karen Watkins (basketball) '95
The Rev. Earnest Bell (football) '70
Dr. Darnell Johnson (football) '73
Mr. Phillip Smith (football) '61
Watkins was a member of the ECSU basketball team from 1992 to 1995 after transferring from Livingstone College in 1991. She served as co-captain and captain of the team between 1992 and 1995. Her shooting percentage from the floor was above 50 percent and she had an 80 percent free throw shooter. Watkins was selected as a member of the CIAA All-Rookie team and selected to the All CIAA Women's First Team in 1995. While at ECSU, she was selected as a member of several All-tournament Teams. Later in 2002- 2003 she played semi-pro basketball in North Carolina. Watkins earned a B.S. degree in chemistry and became a certified food safety professional. Her skills led her to positions with several major corporations. Her family includes two sons and a Yorkshire Terrier. She is an active member of Delta Sigma Theta Sorority Incorporated and maintains active participation in other community service ventures. Bell, known on campus as &quotHollywood Mcgoo&quot served twice as a co-captain of the football team. Bell also served as president of the Men's Government Association. He was selected as All-CIAA first team at Right Guard. After earning his B.S. degree from ECSU, he taught in the New Haven Connecticut public schools for 33 years. He earned a master's degree from Central Connecticut State University and a Master of Divinity from New Brunswick Theological Seminary in New Brunswick, N.J. He has been a pastor of several African Methodist Episcopal Churches in New Jersey and Delaware. His family includes wife, Deirdre Lynne, one daughter and one son. Johnson was a member of the '71 football CIAA Championship team. He earned his B.S. degree from ECSU then moved on to the University of Kentucky where he earned his master's in math education. Johnson had been selected as a free agent for the Dallas Cowboys but opted to continue his education. Doing so allowed him to maintain a coveted NCAA postgraduate scholarship that covered the cost of tuition at UK. He earned a certificate of advanced studies in administration from Old Dominion University and later earned a doctorate from George Washington University. He taught 13 years in Virginia's public schools and worked as an administrator in Virginia for 17. He has worked as adjunct instructor for ECSU 17 years and an administrator and endowed chair over the last seven years. Johnson, a member of Alpha Phi Alpha Fraternity, serves as a consultant and facilitator for marriage seminars, educational divisions and government agencies. He and his wife are Baptists and they are frequent donors of the university. Dr. Darnell Johnson is currently the E. V. Wilkins Endowed Professor for the Dr. Helen Marshall Caldwell School of Education and Psychology at ECSU. His family includes, wife, Dr. Stephanie Johnson, one adult daughter and three granddaughters. Smith was an outstanding running back for the football team. He was captain of the 1961 football team and a member of the Evelyn A. Johnson Choir. He lettered all four years in attendance and was one of four freshmen playing an outstanding role in the 1955-56 EIAC Championship team. In 1959 he led the team in rushing yardage, finishing the year fifth in the CIAA, receiving honorable mention. After earning his B.S. degree from Elizabeth City State Teachers College, he taught and coached football in the Smithfield Virginia public schools. He won Coach of the Year awards three times in the late 60s and the teams won three state championships. Smith also taught and coached football and wrestling in the Newport News School System and the Hampton School System. An active member of the First Baptist Church East End in Newport News, Va., he maintains active memberships with several civic organizations and associations that serve the interests of educators. He is a life member of the NAACP and the ECSU National Alumni Association and an active donor for several initiatives of the university. His family includes wife, Raye Smith, two adult sons and three grandchildren. The selection committee for the ECSU Sports Hall of Fame follows:
Ms. Lillian Watson
Ms. Loretta Buggs
Mr. J.R. Spence
Dr. Jeanette Evans
Mr. Gary Q. Stubbins
Ms. Phyllis Williams
Mr. Thurlis Little, Jr.
Mr. Randy Jones
Mrs. Deborah Fogle-Williams
Mr. Cleveland Blount
Mr. Randy Robbins
Mr. Eugene Thompson
Mr. Garland White
The Steering Committee included Dr. Claudie Mackey, Mr. Alvin T. Kelley, and Dr. Angelia Nelson.
---